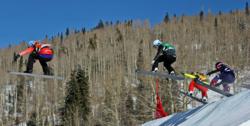 Spend December in Condé Nast Traveler's #1 Best Ski Resort in North America
Telluride, CO (PRWEB) November 30, 2012
Telluride Ski Resort is gearing up to host four days of head-to-head action during the Fourth Annual Telluride World Cup coordinated by the International Federation of Skiing (FIS) and U.S. Ski and Snowboard Association (USSA). The fast-paced snowboardcross (SBX) and skicross (SX) races will mark one of the first World Cup competitions of the 2012-2013 season and are the beginning phases of international qualifying for the 2014 Sochi Winter Olympic Games. Each duel is limited to four to six starters racing through steep turns, jumps of varying size, large rolls, banks and ridges with the top half of the field moving onto the next round.
Skicross competition will make its debut at this year's Telluride World Cup, taking the place of Parallel Giant Slalom (PGS), which has been in Telluride the past three years. Skicross has become extremely popular recently in the winter sports community and will be the only new medal sport added to the 2014 Sochi Winter Olympic Games.
The World Cup events will be the perfect compliment to Telluride's first Holiday Prelude – two weeks of seasonal activities from craft fairs and outdoor ice-skating to live music and festival activities – starting December 5 and ending on December 16. Get into the holiday spirit by spending December in Condé Nast Traveler's #1 Best Ski Resort in North America.
Start planning a holiday ski trip to Telluride... today! Get 3rd night free in Mountain Village for the Telluride World Cup. Call (877) 507-9695. Like Telluride's Facebook Page and follow Twitter for up-to-date events, photos, videos, and more from the 2012 Telluride World Cup.
About Telluride.com
Telluride.com is owned and operated by Telluride Alpine Lodging - the longest-standing, locally-owned and operated lodging company in the Telluride region. Offering a wide selection of hotel rooms, vacation homes and condominium rentals in both Telluride & Mountain Village, Telluride.com is the only place to look to find the perfect Telluride vacation rental.
Media Contact:
Hart Roberts
Marketing Manager
(970) 728-3388, ext. 155
Hart(at)Telluride(dot)com
@hartwellskis