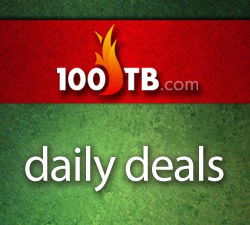 We have never released server deals to this extent.
Salt Lake City, Utah (PRWEB) November 30, 2012
100TB.com is keeping hosting shoppers on their toes this holiday season with their recently announced daily deals promotion, spun in the holiday tradition of the advent calendar. With eagerness and anticipation, new and existing hosting customers will watch as 100TB.com opens the door to new daily deals on dedicated servers and hosting services.
100TB.com has not released specific details about the advent calendar daily deals but has mentioned it will include free upgrades, deep discounts on current services, freebies, and much more. 100TB.com will release a new deal at approximately 12 a.m. MST beginning Dec. 1 through Dec. 24.
"We're creating excitement during the holiday season with our daily deal advent calendar," said Thomas Hancock, the general manager of 100TB.com. "If you have a dedicated server, or intend on getting a new one, this is the time to do it. We have never released server deals to this extent. These deals coming up are awesome!"
100TB.com has recently been in the news for other large promotions including their F1 Dream Vacation giveaway wherein they awarded Mat Clayton, the co-founder of Mixcloud.com, white glove treatment to the United States Grand Prix.
Promotions and pricing are not the only reason 100TB.com is attractive to individuals and business with high hosting demands; their powerful server line-up and on-demand infrastructure lead prospects from casual curiosity to committed customer. With substantial upgrades to their infrastructure including additional top-tier bandwidth providers, fully redundant data center, and the latest Intel dedicated servers, 100TB.com is setting new standards for the dedicated hosting industry.
"Through already unbeatable prices and a strong reputation for innovative products, we're cutting the competitive landscape more and more," said Hancock. "With the new E5 servers, multiple bandwidth providers, and an on-demand infrastructure, we are creating a new 'normal' for the hosting customer; one that competitors scramble to reach."
ABOUT 100TB.com
The originator of 100TB dedicated servers, 100TB.com offers the latest in high power and high performance dedicated server hosting. Through their global network of on-demand data centers 100TB.com provides cloud and dedicated servers to clients across the globe and are committed to providing innovative and powerful hosting services. 100TB.com's technology is backed by the best-in-class network equipment, server hardware and world-class 24 x 7 support. 100TB.com is part of a global group of brands known as the UK2 Group. The UK2 Group has provided Web hosting, domain registration and Internet services to consumers and business alike since 1998. For more information about 100TB.com, visit http://www.100TB.com.