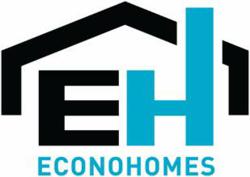 "We truly believe that growth, especially rapid growth, can only come from a workforce that is shown respect, held to high standards and rewarded for exceptional performance..."
Austin,TX (PRWEB) November 30, 2012
Econohomes, a leading reseller of mortgage foreclosure properties in the United States, was among 45 small businesses included in the Austin American-Statesman's Top Workplaces 2012 list.
According to Jeff Ball, CEO of Econohomes, being named to the Statesman's Top Workplaces 2012 list is proof that the company's core vision has been embraced by executives and employees alike. "Our core vision is to rejuvenate communities impacted by the housing crisis," says Ball. "Creating income is a powerful motivator, but so is the drive to help others get ahead during challenging economic times. Many of our employees feel a profound sense of accomplishment knowing their work is helping local investors buy, renovate and resell previously distressed homes as affordable housing in communities across America."
The year 2012 marks the first time Econohomes participated in the Statesman's Top Workplaces survey. To create the Top Workplaces list, the Statesman surveyed over 20,000 employees from 138 employers in greater Austin. Employees were asked to respond to a diverse range of issues, including company leadership, workplace environment and compensation. All employee responses were made anonymously to ensure confidentiality and encourage candid feedback. Results of the survey can be found by clicking here.
Earlier this year, Econohomes was recognized as one of the fastest-growing private companies in the Austin Business Journal's annual "Fast 50" list. Balancing growth with employee satisfaction has been an overriding priority of Econohomes' executive leadership according to Ball. "We truly believe that growth, especially rapid growth, can only come from a workforce that is shown respect, held to high standards and rewarded for exceptional performance," he says. "We have seen the number of employees grow to 75 from 68 in the last 12 months. In the face of such growth, the leadership team has worked hard to keep its core values in place and make new-hires feel part of the Econohomes' family."
More details about Econohomes, including its nationwide listing of REO properties and new flexible investor loan offerings, can be found at http://www.econohomes.com/.
About Econohomes
Econohomes unlocks the enormous potential of distressed properties for buyers, sellers, and communities. With hundreds of investment properties offered in more than 39 states and a proven track record of acquiring and selling thousands of properties since 2005, Econohomes is the alternative pipeline for distressed properties. Econohomes buys REO properties in volume at discounted prices from mortgage lenders and servicers, and almost instantly makes these properties available online to buyers at affordable prices. Econohomes is the leading online source for wholesale investment properties and property financing.