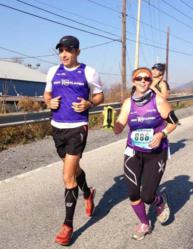 We have so much and want to be able to give back. I can't think of a better way than to support Back on My Feet.
Bronx, NY (PRWEB) November 30, 2012
There will be four winners of one-hour social media and internet marketing consultations with Mandi Susman, Founder and President of Sus4Media. To enter the contest, simply make a 100% tax deductible donation of at least $50 via the link provided and your company will be entered to win. Full contest details are below.
When asked why she is taking the time to raise money for BoMF, Ms. Susman says: "I chose to run my first marathon in support of this organization because I know personally how much running has improved my life and I believe that this sport has the power to turn around the lives of those who are most in need. I have seen it personally and am excited to be able to support an organization that shows people just how much they can accomplish by just showing up."
In addition to the power of running she has found in her own life, the issue of homelessness has touched her personally. Recently, Ms. Susman's family decided to adopt two kittens, one for each of their boys. They went to Bideawee animal shelter in Manhattan and one of the first kittens that they encountered was Sammy. He was instantly loving, purring and rubbing up against anyone who picked him up. Most cats are just not that friendly but Sammy really had a loving personality so the Susman's decided to adopt him and one other kitten that was also friendly and personable. While they were completing the adoption paperwork, the Bideawee employee who was helping them told them the story of how Sammy came to be at their shelter. It turns out that Sammy was rescued from the streets, out of a garbage can, by a homeless man. Ms. Susman and her family were very happy to be able to provide a home for this cute and loving kitten, but what does it say about our city when homeless pets are easier to put into homes than people? Even the man who brought Sammy to the shelter knew that the kittens would have an easier time getting a permanent roof over their heads than he would.
"We have so much and are so blessed to be able to lead the life we do and the best way I can think of to demonstrate our thanks is to raise money for an organization that is helping others to find their feet again and get their lives pointed in the right direction," says Ms. Susman
Sus4Media is running a contest to encourage contributions to BoMF and help get to their fundraising goal of $6,000. Every business owner who contributes at least $50 before December 10th will be eligible to win one of four one-hour social media and internet marketing consultations with Mandi Susman, founder of Sus4Media. To enter, simply make a donation in the amount of $50 or more and you will be entered. The drawing will happen on the morning of December 11th and winners will be notified that day.
# # #
Sus4Media, Inc. was founded by Mandi Susman in 2010 to help small, local businesses in the Bronx thrive, not just survive, in this turbulent economic climate. Since signing their first client, Sus4Media has grown to provide social media marketing, video marketing, mobile and text marketing and search engine optimization to small and medium sized businesses from coast to coast. Mandi's first book, "Trade Secrets for Marketing Your Business Online" can be purchased through Amazon.com.
Founded by Anne Mahlum in 2007, Back on My Feet is a national nonprofit organization that is dedicated to creating independence and self-sufficiency within the homeless and other underserved populations by first engaging them in running as a means to build confidence, strength and self-esteem. The organization does not provide food nor shelter, but instead provides a community that embraces equality, respect, discipline, teamwork and leadership.