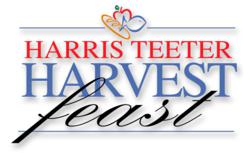 Charlotte, N.C. (PRWEB) November 29, 2012
Last week, Harris Teeter associates, together with former NC State and NFL stars Torry and Terrence Holt and Carolina Panthers middle linebacker Jon Beason, assembled 2,000 Thanksgiving bags in both Raleigh, N.C. and Charlotte, N.C. for a total of 4,000 bags to be distributed to community members who might otherwise go without a holiday meal.
The events, in their third year and known as the Harvest Feast Thanksgiving Bag Assembly Project, took place on Monday, Nov. 19, 2012 at the Food Bank of Central & Eastern North Carolina in Raleigh, N.C. and on Tuesday, Nov. 20, 2012 at the Second Harvest Food Bank of Metrolina in Charlotte, N.C. After the bag assembly in Raleigh, the Holt Brothers personally distributed dinner bags to children at Homework Haven. In Charlotte, Beason distributed dinner bags to children who are clients of the Kids Café at the Stratford Richardson YMCA.
"The food bank plays an integral role in the lives of thousands of children in this community," said Beason. "I am honored to do what I can to help to bring awareness to and promote this wonderful organization."
Harris Teeter's Thanksgiving Bag Assembly Project is part of a larger campaign hosted by the company called the Harvest Feast Food Drive and Donation Card Campaign. Launched in 2003, Harris Teeter customers have donated over one million dollars during the campaign to support their local food bank partners. The company is also title sponsor of the Redskins-Harris Teeter Harvest Feast event that was also last week and through which the Redskins, Harris Teeter and Operation Blessing distributed holiday meals to 3,500 families in Prince George's County.
Harris Teeter's Harvest Feast Food Drive and Donation Card Campaign ends Nov. 30, 2012. All monies and product donated will stay in the local community in which it was collected and no donation is too big or small.
Harris Teeter will announce results of the donation card campaign in December, and to watch a video from the bag assembly in Charlotte, click here.
About Harris Teeter
Harris Teeter Inc., with headquarters in Matthews, N.C., is a wholly-owned subsidiary of Harris Teeter Supermarkets, Inc. (NYSE: HTSI). Harris Teeter is the 24th largest supermarket in the U.S. with 2011 sales of $4.29 billion. The regional grocery chain employs approximately 25,000 associates and operates stores in North Carolina, South Carolina, Virginia, Georgia, Tennessee, Maryland, Delaware, Florida and the District of Columbia.