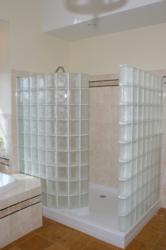 there is never a shortage of glass block ideas, every day we are amazed by some of the designs and layouts that contractors dream up, they truly are pioneers of greatness
Morris, IL (PRWEB) November 29, 2012
Without a doubt, the wheel is mans greatest invention. Throughout the decades, vast improvements have been made to make the wheel more versatile and efficient. The kind of products that offer ease of use as well as greater control, makes the products special to consumers. For contractors, builders and even architects and interior designers, Quality Glass Block and Window Co. would like to introduce a glass block that offers great features like; greater control over the finished look of a project, ease of use and even a better looking end result. The Encurve, a U.S made glass block, gives any glass block structure a beautiful finished look.
To compare this product to the wheel just seems silly to most people, not even in the same category. But to the contractors that sell and even install products and services pertaining to the glass block industry, they know all too well how difficult selling a glass block shower enclosure can be if the client's needs and wants can't be met fully. "The Encurve glass block help save time and money by allowing the installer to not have to make a floor to ceiling glass block wall" said Ray Tuminello, President of Quality Glass Block and Window Co. "This also gives a much cleaner and neater look as opposed to tiling the edges."
The Encurve glass block is quite simply, a rounded glass block with a smooth and clean finished edge that looks spectacular in any glass block structure. The Encurve was made for glass block structures that do not reach the ceiling and are open on one or more sides. When being used with its brother; the Endblock, the entire structure takes on a whole new look and feel. Neat, clean and undeniably beautiful; the owner will be in awe of their new glass block shower enclosure, glass block bar or glass block wall.
"For ideas and tips on how to use the Encurve or Endblock, visit our image gallery online or even give us a call," said Tuminello. "We would also like to invite contracting professionals to engage us on social media or even through our blog to share their glass block creations and ideas with us and the rest of the world," said Tuminello "there is never a shortage of glass block ideas, every day we are amazed by some of the designs and layouts that contractors dream up, they truly are pioneers of greatness."
The Encurve and Endblock are available in two of the most common patterns for glass block; Icescapes and Decora. But, while at Quality Glass Block and Windows website, swing by their glass block murals page. By showing this page to potential customers, they will surely dream up something wonderful that they will not be able to live without once they have dreamt it. The end result will most definitely be a sale for the contractor and an unbelievable show piece to display to future customers.
Quality Glass Block and Window Company (http://www.qualityglassblock.com) is a leading provider of glass blocks used for windows, shower enclosures and vents. In addition to wholesale glass blocks, Quality Glass Block and Window Company provide installation services or guidance for do-it-yourself builders and homeowners.