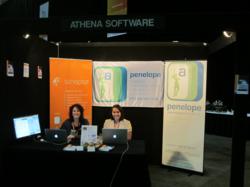 It was exciting to meet with so many providers of social services in Australia and to have the opportunity to not only meet many of our existing clients but to share Penelope with other social services providers during this once-in-a-lifetime trip
Waterloo, ON (PRWEB) November 30, 2012
It's a 30,000-kilometre round trip well worth taking.
For the third year in a row, a representative from Waterloo, Ont.-based software company Athena Software travelled to Australia to attend a national conference hosted by Family Relationship Services Australia (FRSA), the national body for family relationship and support services in the country.
This year, Athena Software business development associate Veronica Williams made the trip to Darwin in Australia's remote Northern Territory to attend FRSA's fifth annual conference, titled Positive Impact: Showcasing the Evidence.
Held from Nov. 13 to 15 at the Darwin Convention Centre, this year's conference was attended by a record 550 people, according to the FRSA website.
Alongside practitioners and managers from the social services field, attendees included prominent politicians and academics such as Australian MP Kevin Andrews and Aron Shlonsky, an associate professor at the University of Toronto and the scientific director of the Ontario Children's Services database.
Athena Software was a silver sponsor for this year's conference. While working the Athena booth at the three-day event, Veronica was able to interact with the company's existing Australian clients, and gave prospective clients in the social services field in Australia a chance to see how Penelope's FaHCSIA and FSP Online compatibility can help organizations become more efficient.
She was joined at the booth by Joanna Retnam, project manager at Sinapse, an Australian firm that partners with Athena to provide training and support to Athena's growing base of clients in Australia and New Zealand.
In addition, Veronica was able to experience unique aspects of Australian culture, including witnessing a partial eclipse of the sun in Darwin and tasting some exotic crocodile tail and kangaroo dishes at the conference.
"It was exciting to meet with so many providers of social services in Australia and to have the opportunity to not only meet many of our existing clients but to share Penelope with other social services providers during this once-in-a-lifetime trip," said Veronica.
Athena Software's presence in Australia has been increasing rapidly in the last three years. More than 30 organizations in the region have successfully implemented the company's Penelope case management software application, including numerous national social service organizations such as Relationships Australia, Anglicare, Centacare, Uniting Care and Queensland Health.
COMPANY INFORMATION
Athena Software (http://www.athenasoftware.net) is a global case management solution provider based in Waterloo, Ontario, Canada.