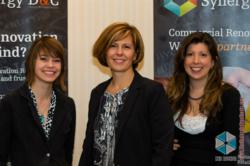 As an owner of a small business myself, it's important to support other women as they launch and continue to grow their companies. Women-owned businesses are the economic engine to our fiscal recovery
Reston, VA (PRWEB) November 30, 2012
For their forth year in a row, this Northern Virginia design/build firm Synergy Design & Construction, Inc. (dba Synergy D&C) were thrilled to participate both as exhibitors and attendees at the 2012 Virginia Women's Business Conference on November 6th.
The conference, which has been held annually since 2009, is organized by and for women entrepreneurs who may be just starting out, are looking to make strategic connections with other women via networking, or might be looking to take their successful business to the next level. This year's event took place at the National Conference Center in Leesburg, and attracted nearly 475 participants.
"We have been supporters of this event from the beginning and each year it just gets better and better," says Mina Fies, Founder and CEO of Synergy Design & Construction. "As an owner of a small business myself, I feel it's important to support other women as they launch and continue to grow their companies. I truly believe women owned businesses are the economic engine to our fiscal recovery in the U.S."
The impressive event was created and managed by Tina Johnson of JP Events & Consulting, who began this conference four years ago with Kristina Bouweri of Reston Limo. In addition to small break-out sessions offering business advice, encouragement, and inspiration from various women in business, the conference included three keynote speakers: Fabienne Fredrickson of ClientAttraction.com; Vernice "FlyGirl" Armour, a former combat pilot; and DC Chief of Police Cathy Lanier.
In-between attending sessions on marketing and business organization, the Synergy team was able to connect with hundreds of peers in the Northern Virginia area, as well as give away a free kitchen design to one of the lucky visitors to their popular booth.
About Synergy Design & Construction, Inc.
Synergy D&C is an award-winning woman-owned, Class A General Contractor serving Virginia, Maryland, and the District of Columbia. Their mission is to be the most trusted renovation and design firm in the industry, committed to excellence in customer service and innovative strategies for remodeling success. Synergy D&C launched at the height of the recession, and has already garnered recognition through several Master Design and Contractor of the Year awards and has been featured on HGTV's "Bang for your Buck."