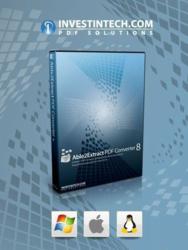 Toronto, Ontario (PRWEB) November 30, 2012
Today, Investintech.com is proud to announce the release the Able2Extract 8 PDF Converter. Able2Extract is a PDF conversion software program that allows users to convert PDF documents to popular Microsoft Office formats and more.
This latest version is a major milestone for our flagship product. It is the first PDF converter on the market compatible on all three Windows, Mac and Linux platforms. Here's a look at what it has to offer.
Introducing Cross Platform Compatibility For the First Time
For the first time, Able2Extract PDF Converter is available on all Windows, Mac, and Linux platforms. Our developers have worked hard and have successfully rebuilt Able2Extract from the ground up to run on all 3 systems.
Able2Extract 8 is available on Windows and is compatible with the latest Windows 8. As always, Able2Extract is backwards compatible, too. It can be downloaded on Windows 7, Vista, XP, and other Windows platforms going all the way back to Windows 98.
Users can now install Able2Extract 8 on Mac OS X and benefit from all the same features found in the Windows version. Able2Extract can instantly convert PDF content into Office formats that are compatible with the Microsoft Office productivity suite for Mac.
In a first ever, Able2Extract 8 is available for the Redhat and Ubuntu distributions. As a full featured desktop converter, Able2Extract eliminates the need for complicated command line tools and lets users easily convert PDF documents to formats compatible with Open Office and Libre Office.
New Convenient Navigation Side Bar
We have included a new preview pane with Able2Extract 8. This addition provides users with better navigational control over pages, bookmarks, and attachments. Navigating through lengthy PDF documents is now more convenient and done directly from within the viewing window itself.
Redesigned PDF to Excel Custom Conversion Interface
Able2Extract's PDF to Excel custom conversion interface has been completely redesigned. The new streamlined graphical interface allows users to easily preview and designate the row and column structure prior to conversion. Users can directly ensure that tables are being faithfully converted into Excel spreadsheets.
Improved PDF Conversion Performance
Our conversion technology has been improved, as well. This increases productivity with even faster conversions for PDF to Word, Excel, PowerPoint, and more. No matter what the output format, users benefit from accurate and seamless data transfers every time.
A More Powerful Built-In PDF Viewer
Able2Extract's PDF viewing technology has also received an upgrade. Zooming and viewing features have been updated to provide an even higher quality display of PDF content than that of the previous version. Viewing and interacting with PDF graphics and text is now smoother than ever.
Advanced OCR Performance Enhancements
Able2Extract Professional also features performance enhancements for its OCR engine. Grainy, broken and unsearchable PDF text can be identified, restored and converted. Users with scanned PDFs can get quick, quality conversion results when needed.
Try it Free
Able2Extract 8 is compatible with Windows 8, 7, Vista, XP, and is backwards compatible with other Windows platforms going back to, and including, Windows 98.
Mac users can get Able2Extract 8 for the latest OS X Mountain Lion.
For Linux, users can download Able2Extract 8 on the popular Ubuntu and Redhat distributions.
Able2Extract 8 is available for download as a 7-day free trial at the following page:
http://www.investintech.com/prod_downloadsa2e.htm
Users can purchase a full version license for Able2Extract at only $99.95 USD. A 30-day subscription license is also available for $34.95.