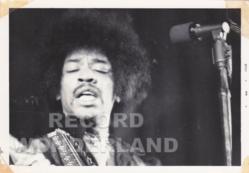 "Some shots are reminiscent of the art for Electric Ladyland."
Schaumburg, IL (PRWEB) November 30, 2012
Jimi Hendrix's remarkable charisma gets a fresh look this week as newly discovered photographs from a 1968 concert are auctioned on eBay.
Record Wonderland, an online music seller, is selling the Hendrix photos along with a set of photos featuring the Grateful Dead performing in 1969, and several other pieces of music history. The photos were obtained from a private collector.
The Hendrix photos were taken at a concert held at Keil Auditorium in St. Louis. The unknown photographer must have had remarkable access, as they snapped a number of close-up and back stage shots of Hendrix as he performed.
"New concert shots of classic artists turn up from time to time, but rarely are they as close range as these," said Steve Young, the operator of Record Wonderland. "Aside from being unique pieces of rock history, these pictures give a new perspective of being up front and personal at an actual Jimi Hendrix show. Some of the close-up shots are reminiscent of the cover art for Hendrix's Electric Ladyland album."
There are several pictures from the Hendrix show. Many are currently being auctioned individually on ebay.
Also for sale are a set of photographs of the Grateful Dead, also performing in St. Louis a few months after the Hendrix show, also at Keil Auditorium.
"The show is somewhat legendary among Dead fans," said Young. "The band was opening for Iron Butterfly and had intended to play a short set, but the crowd got so riled up that Iron Butterfly insisted that the Dead play another set just to placate the audience."
The photos include most of the band's lineup at the time, including some nice shots of the late Ron "Pigpen" McKernan, along with Mickey Hart, Bill Kreutzmann, Bob Weir and Tom Constanten. Again, the shots were taken from the perspective of a close audience member.
The set of 13 Grateful Dead photos are for sale as a lot at eBay.
All photos are available for viewing at the auction pages. The Hendrix photo auctions are scheduled to end Dec. 4.
Record Wonderland is selling some other remarkably rare pieces this week, including: a 1963 true first British Parlophone pressing of Please Please Me, the first LP released by the Beatles; an authentic full 1920 issue of Gazette Du Bon Ton, the hugely influential Paris fashion journal; several original two-track stereo reel tapes from the 1950s; and a plethora of other rare recordings on vinyl.
Record Wonderland has thousands of vinyl records in stock, as well as other audio-related wonders. To see some of the titles available, visit http://www.recordwonderland.com