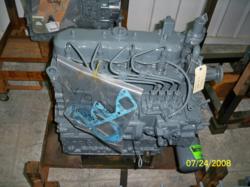 If we do not have your engine in stock, we can either reman or rebuild your engine in about 7 - 10 business days. - Scott Schlabach, General Manager, Country Sales and Service, LLC.
Orrville, OH (PRWEB) November 30, 2012
Repairing a Kubota engine used to be a costly and time-consuming undertaking, but no longer. That's because the highly-trained service technicians at Country Sales & Service, LLC can rebuild a Kubota engine in a week's time, assuming the core is provided. Even if the core is not available, they can build it for the customer in most cases. They also redress reman engines; both diesel and gasoline, to suit each customer's specific needs, so they're certain to receive the exact product they need to get the job done. All engines, both customer rebuilds and remans, are re-manufactured to Kubota specifications, test-run to ensure quality and are backed by a warranty. Country Sales & Service, LLC even offers free engine technical support to all customers who purchase either a rebuilt or new engine through them.
According to Scott Schlabach, general manager of Orrville, Ohio-based Country Sales & Service, LLC, "A re-manufactured engine can save a customer a lot of money because a rebuilt engine is less expensive than a brand new one. Our technicians take great pride in their work, and we're not satisfied until our customers tell us they are pleased with our work." Since the recent expansion of their facility, Country Sales & Service, LLC can accommodate their customers with a 7 to 10 business day turnaround. "We stock the most popular reman engines and they're ready to ship. And, if we don't have the engine our customer needs, then we can build it." said Schlabach.
Country Sales & Service, LLC is a family-owned company headquartered in Orrville, Ohio, authorized to sell Kubota Engines and Kubota Engine Parts & Service. For further information about additional products and services they provide, visit their website at http://www.countrysalesandservice.com or call them (330) 683-2500.