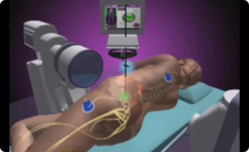 New advances in minimally invasive fusion surgery techniques can relieve back pain without the trauma of traditional spinal surgery and patients can be back on their feet in a matter of weeks, not months.
West Orange, NJ (PRWEB) November 30, 2012
According to Kaixuan Liu MD, PhD, chief surgeon at Atlantic Spinal Care and an expert in the cutting-edge spinal surgery techniques, "New advances in minimally invasive fusion surgery techniques can relieve back pain without the trauma of traditional spinal surgery and patients can be back on their feet in a matter of weeks, not months." One of the most promising new types of minimally invasive back surgery is XLIF, or eXtreme-Lateral Interbody Fusions. "For the patient, the benefits with XLIF are fewer traumas to the body than with traditional open fusions surgery because it avoids traversing through the abdomen or cutting and disrupting the muscles in the back. Most importantly, this means a less painful surgery," adds Dr. Liu.
What's new about XLIF minimally invasive procedure?
Spinal fusion surgery has been around since the early 1900's. It was originally developed to correct spinal deformities caused by tuberculosis, and has since become a widely accepted surgical treatment for many kinds of back pain. But according to Dr. Liu, the new XLIF procedure is far superior to older techniques for several reasons:

XLIF is minimally invasive using very small incisions, typically less than half an inch long, instead of the single large incision that's required in traditional "open" spinal surgery.
It also uses x-rays, which allow the surgeon to see without spreading apart the muscles and other tissues surrounding the spine.
The incisions are fitted with small dilator tubes that allow the surgeon to remove the damaged disc (or other material) and perform the fusion without creating unnecessary trauma to the surrounding area.
XLIF also uses an advanced nerve monitoring system that provides accurate, reproducible, real-time feedback about nerve health, location, and function, reducing the chances of nerve injury.
"The differences in recovery between XLIF and traditional spinal fusion for patients are vast," says Dr. Liu. Many patients can go home right away, instead of a three- to five-day hospital stay common to traditional spinal fusion surgery. Patients are also typically up and walking the same day, versus being immobile for two to four days with traditional fusion. "With XLIF, patients can resume their normal activities in four to six weeks, in most cases," he says. "That's a big advantage over the six months-plus that most have to wait with a traditional operation."
What conditions does XLIF surgery treat?
XLIF procedures can be used to treat many conditions, including; low-grade spondylolisthesis, a condition in which one of the vertebrae in the back slips out of position, degenerative disc disease in the lumbar spine, recurrent lumbar disc herniation, a condition in which the gel-like center of one or more of the discs in the spine has bulged or broken through the disc's tough outer membrane and degenerative scoliosis, a curvature of the spine. In most XLIF procedures, the surgeon will remove an intervertebral disc and fuse the space with a modern implant, which helps stabilize and maintain the spine's natural shape and help it heal.
Dr. Liu explains that the technique is called "extreme-lateral interbody fusion" because the surgeon operates on the spine through a small incision on the side (the extreme-lateral side of the body), not on the abdomen (anterior side) or back (posterior side). It's an "interbody" procedure because it addresses the area between the bones (vertebrae or discs) in the spine.
"XLIF minimally invasive spine surgery offers patients a new option for relief with less trauma, less pain and faster recovery than with traditional open fusions surgery. This is exciting news for people with chronic back pain," adds Dr. Liu.
About Dr. Liu:
Kaixuan Liu, M.D., Ph.D., is a renowned endoscopic spine surgeon and founder of Atlantic Spine Center in Edison, New Jersey (http://www.atlanticspinecenter.com). Dr. Liu is certified by The American Board of Pain Medicine and The American Board of Anesthesiology, and is a member of The International Society for Advancement of Spine Surgery, The American Society of Interventional Pain Physicians (ASIPP), The American Academy of Pain Medicine (AAPM), The International Intradiscal Therapy Society (IITS), and The American Society of Anesthesiologists (ASA). He also serves as an international surgeon for The Spinal Foundations in England.