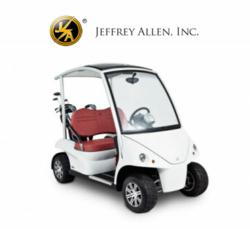 Tampa, Fla. (PRWEB) November 30, 2012
Jeffrey Allen is pleased to announce the addition of Garia luxury golf and leisure cars to their inventory.
"Jeffrey Allen is very well known in Florida for their many years of excellent sales and customer service across the state. They have great locations in the Tampa Bay area, Orlando and Ft. Lauderdale. They are exceptionally well suited to carry the top of the line Garia product," says Eli Beeson, Sales Director at Garia in Florida.
The partnership will include sales and service of Garia golf and street legal cars for two and four persons.
For additional information visit one of our conveniently located dealerships:
Jeffrey Allen - EAST COAST DIVISION
2701 Reese Road
Davie, FL 33314
954-485-6175
Jeffrey Allen - CENTRAL DIVISION
1724 Diplomacy Row
Orlando, FL 32809
800-282-6256
Jeffrey Allen - WEST COAST DIVISION
4401 Us Hwy 301 N.
Tampa, FL 33610
813-622-7717
About Garia:
The Garia is the world's first luxury golf and leisure car. It is built at one of Europe's finest automotive factories with a track-record of manufacturing Porsche. Luxury features include a built-in refrigerator, hand-stitched seats, and 12" wheels.
About Jeffrey Allen:
Jeffrey Allen, Inc. is the largest golf car distributer in Florida. We provide customers with vehicles for every application and have a fully stocked parts department, highly trained staff, onsite service, rentals and more. With more than 40 years of experience, Jeffrey Allen, Inc. is committed to the highest level of service.