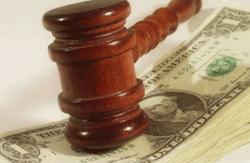 Luckily, class action settlement loans are available, and can help plaintiffs get the money they need in a shorter amount of time.
Phoenix, AZ (PRWEB) November 30, 2012
AnyLawsuits.com, quick settlement loans provider, now offers loans to those battling or those who have won class action lawsuits. These loans will help plaintiffs get the money they need sooner, without waiting for payments to be distributed.
Class action lawsuits can come about for many reasons. Often they are against a large company that acted either irresponsibly or perhaps dangerously, and those affected need to be compensated. The road to class action settlements is challenging and sometimes very long. And unfortunately, there are plaintiffs who are waiting for their settlements to get their lives back on track financially.
Luckily, class action settlement loans are available, and can help plaintiffs get the money they need in a shorter amount of time. With these loans, plaintiffs are awarded the money they'll receive when they win their case without having to wait for a courtroom decision and multiple rounds of appeals before getting their settlement. And this money can be very helpful to families who are relying on it.
With AnyLawsuits.com, borrowers are able to continue living their daily lives with the money they need, while awaiting courtroom decisions or payment distributions. Plaintiffs in these class action lawsuits can get non-recourse cash advances to help support themselves and their families without having to settle for a lower payment amount because the payment timeline is shorter. Additionally, AnyLawsuits.com will not collect payments if the class action plaintiffs do not win their case. This means that each plaintiff can relax, knowing that their representation is working hard to make sure everyone receives the best financial compensation they deserve.
Along with funding plaintiffs in class action lawsuits, AnyLawsuits.com will fund wrongful termination suits, medical malpractice lawsuits and patent dispute cases, while always working toward the best outcome possible for each plaintiff involved.
Now all victims involved in class action suits can rest assured that their bills will be paid and their families will be taken care of. AnyLawsuits.com is able to help.
About AnyLawsuits.com
AnyLawsuits.com is a leading provider of non-recourse cash advances for plaintiffs in the United States. Lawsuit cash and settlement loans and provided while the case is in progress, so plaintiffs don't feel pressure to accept low settlement offers. Contact AnyLawsuits for a fair value of any case.