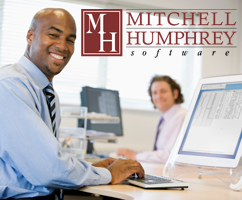 Mitchell Humphrey's ERP for Government allows multiple departments to communicate all together, in real time.
St. Louis, MO (PRWEB) November 30, 2012
Mitchell Humphrey is proud to add permitting to its ERP Software. Most recently, Mitchell Humphrey released its newest module for construction management. Permitting is the newest addition to Mitchell Humphrey's FastTrackGov (FTG) web-based solution. With the introduction of the Permitting module, state and local governments now have a complete set of tools utilizing a centralized database built on the Microsoft Dynamics® CRM platform.
"Mitchell Humphrey's ERP for Government allows multiple departments to communicate all together, in real time," stated Kim Schaefer, President and COO of Mitchell Humphrey.
Mitchell Humphrey's ERP solution offers a broad range of software including Financials, Point of Sale, and Community Development applications. The Financial Management System, FMS II, has built-in capabilities to integrate with other software, whether developed in-house or acquired from another vendor. This allows data to be entered only once in any systems integrated with FMS II.
The HRMS/Payroll solution, powered by Vista HRMS®, is a browser-based suite of HR, Payroll, Benefits, Recruiting, Workflow, and Self-Service components providing comprehensive tools to help manage and deploy data across the board.
As part of its ERP software, Mitchell Humphrey's FTG Community Development solutions include a full-suite of automated Licensing, Permitting, and Fee/Tax Collection systems. Licenses, Inspections, Permitting, Code Enforcement, Land Use, Zoning, Citizen Requests and Complaints, Health and Safety, Occupancy, Property Maintenance, and Parks and Recreation applications are all streamlined services.
"Consider our FTG database as an 'all-inclusive connection' between cities, counties, states, building departments, and their communities," explains Schaefer.
The key features of the new Permitting module include viewing permits on-line in real time; GIS integration; access to daily inspections; and immediate retrieval of all workflow phases. The 24/7 access and advanced portal functionality allow users to determine which permits are required in different jurisdictions and to apply for, pay, and receive building permits anywhere via computer, mobile phone, or tablet. Users can submit questions, attach digital plans, access permits and authorizations at any time in one centralized location, and then receive certificates and arrange inspections from anywhere. Information is provided in user-friendly dashboards.
Mitchell Humphrey's FTG on-line Permitting module provides efficiency, cost savings, and total control for governmental organizations while offering transparency and ease of use to their citizens.
About Mitchell Humphrey
Since 1977, Mitchell Humphrey has been providing software and services to clients in both the public and private sectors. Today, clients across North America benefit from our solutions in citizen services, accounting, human resources/payroll, community development, and cashiering.
To learn more about Mitchell Humphrey's FastTrackGov software or to see a demo, visit http://www.fasttrackgov.com/resources/webcastswebinars/.