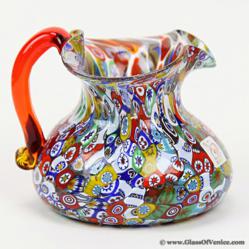 GlassOfVenice.com is the market leader with over 1,600 unique in-stock products available on the website, and the list continues to grow.
Glen Rock, NJ (PRWEB) November 30, 2012
For over five years GlassOfVenice.com has been steadily expanding its online presence and making the name for itself with beautiful authentic Murano Glass products, well-designed web portal, and first-class customer service. Today GlassOfVenice is proud to be the number one importer and retailer of authentic Murano Glass in the U.S. and one of the top names among Murano Glass retailers worldwide.
"GlassOfVenice.com is a place for discerning customers looking for the best and the most exquisite artistic glass in the world. By closely watching the art glass industry on Murano and working directly with the best and the most-established artisans on the Island, we have been able to greatly expand the selection of Murano Glass products on our website. Now we are the market leader with over 1,600 unique products available on our website, and the list continues to grow", proudly says Kevin Grinberg, the President and CEO of the Company. GlassOfVenice offers all types of Murano jewelry, cufflinks, giftware, including key chains, photo frames, and letter openers, tableware and home décor, classic Murano Glass chandeliers and a long list of other items. The website is a famous destination among those people who traveled to Venice and were impressed with the beauty, quality, and artistic value of Murano Glass. Upon return from Venice, many of them start looking for Murano Glass online and quickly realize that GlassOfVenice is the only place where quality, variety, and prices rival those they've seen in Venice.
The company has enjoyed quickly growing clientele and wide brand recognition over the recent years, but the Management still sees lots of opportunities for growth and improvement. By continuously enhancing the website, improving client experience, and increasing its marketing reach, GlassOfVenice hopes to bring Murano Glass to every corner of the world and let many more people enjoy the colors, exquisiteness, and artistic quality of this famous Venetian export.