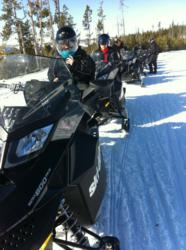 Created for all levels of snowmobile enthusiasts, the Yellowstone National Park tour is led by expert guides.
Jackson, Wyoming (PRWEB) November 30, 2012
The Wyoming Inn of Jackson Hole provides a Yellowstone National Park snowmobile experience for visitors who would like to spend a day touring one of the world's most incredible geothermal features. Created for all levels of snowmobile enthusiasts including beginners – as well as for those who would prefer to tour the park from the comfort of a van with a snow coach tour – the tour is led by expert guides from Rocky Mountain Snowmobile Tours (RMST). Guides pick up guests directly from the Wyoming Inn hotel lobby for a seamless experience, providing them with a hearty breakfast and then transporting them to Yellowstone for 90 miles of touring through the national park's majestically transformed winter landscape where they may see bison, elk, wolves and other wildlife. Before being turned loose with their machines, guests receive one-on-one instruction about snowmobile basics.
"Dressing properly is key to being comfortable on the snowmobile," according to Shirley Lutz, Owner of RMST. Lutz recommends the following six items as tips for guests to bring and wear to ensure the perfect snowmobile tour:
1. Dress in double layers of clothing that insulates and wicks moisture
2. Bring a neck covering or balaclava
3. Wear good ski or snowmobile gloves (hand warmers are also a good idea)
4. Remember sunglasses or goggles
5. Pull on warm socks – and throw a spare, dry pair in your bag
6. Carry a driver's license: a valid driver's license is required for this tour, since travel is on the roads and highways of Yellowstone National Park
While guests need to dress in the appropriate base layers and extras listed above, RMST will outfit guests with winter boots, a snowmobile suit and a helmet with face shield before the trip. The tour consists of a 90-mile roundtrip excursion on groomed trails starting at the south entrance of Yellowstone National Park and traveling to the final destination at Old Faithful. The tour includes a stop for lunch at the Geyser Grill inside the Old Faithful Snow Lodge and plenty of time to take in the scenery.
The Wyoming Inn Yellowstone snowmobile package includes three nights lodging in a King or Double Queen Room with a snowmobile excursion for two people to Old Faithful. Rates start at $949 for double occupancy.
Shorter Snowmobile tours for Granite Hot Springs are also available and include three nights lodging in a King or Double Queen Room and snowmobile excursion for two people to Granite Hot Springs. Rates start at $810 for double occupancy.
Packages do not include fees and taxes. Actual package price depends on dates of stay and are valid from November 26, 2012 to April 8, 2013. Half-day and snow coach tours are available for substitution.
Company Information: The Wyoming Inn of Jackson Hole is known for its spacious, comfortable rooms, luxurious amenities and warm Western hospitality. With a mission to provide outstanding customer service, the Wyoming Inn's friendly staff will gladly arrange a variety of activities suited to guests' interests. Conveniently located on the town's free shuttle line, the hotel provides numerous complimentary offerings including airport transportation, an on-site fitness center and wireless Internet. For information, visit http://www.wyominginn.com or call 800.844.0035.
Media Contact: General Manager Michael Solis, Wyoming Inn, mike(at)thewyominginn(dot)com, 307.734.0035