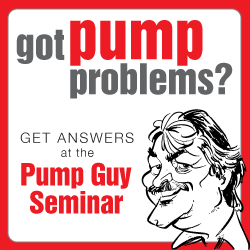 The Pump Guy Seminar is presented by world-renowned pump expert Larry ("The Pump Guy") Bachus, a regular contributor to Flow Control magazine with more than three decades of pumping sys
BIRMINGHAM, Ala. (PRWEB) November 30, 2012
Flow Control magazine is offering a limited-time-only $495 "Holiday Discount" for its Jan. 15-17 Pump Guy Seminar in Decatur, Ala. To take advantage of this offer, call Matt Migliore at 610 828-1711 and mention "Holiday Discount" between now and 5p.m. EST Dec. 21.
The Pump Guy Seminar is presented by world-renowned pump expert Larry ("The Pump Guy") Bachus, a regular contributor to Flow Control magazine with more than three decades of pumping systems design experience.
This three-day training event is the perfect opportunity for process plant engineers, managers, technicians, operators, and Pump Guy fans to meet Bachus in person; network with peers in the pump industry; and, most importantly, gain technical knowledge and practical tips for industrial pump design, operation and maintenance.
Attendees will receive a personal copy of Bachus's popular textbook Everything You Need to Know About Pumps and return home with strategies for improving plant production via reliable pumping systems.
For a full course outline and additional course details, please visit FlowControlNetwork.com/PumpGuy. To take advantage of the Pump Guy Seminar "Holiday Discount" offer, please call Matt Migliore at 610 828-1711 by 5 p.m. EDT Dec. 21.
Flow Control Contact: If you have questions or need more information about the Pump Guy Seminar, please contact Matt Migliore at Matt(at)GrandViewMedia(dot)com or 610 828-1711.
About Flow Control Magazine
Flow Control magazine is the leading journal for fluid handling systems design, maintenance and operation professionals. It focuses exclusively on technologies and strategies for effectively moving, measuring, and containing liquids, gases and slurries. It aims to serve any industry where fluid handling is a requirement.
Flow Control magazine, Grand View Media Group, 200 Croft St., Suite 1, Birmingham, AL 35242, FlowControl(at)GrandViewMedia(dot)com, FlowControlNetwork.com
###