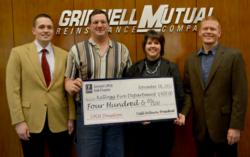 The Grinnell Subchapter of the Iowa CPCU Society has a long history of supporting local fire departments. ~ Todd Milburn, president of Grinnell CPCU Subchapter
Grinnell, IA (PRWEB) November 30, 2012
The Grinnell Subchapter of the Iowa CPCU Society Chapter recently donated $400 to the Kellogg Fire Department in Kellogg, Iowa, to replace worn equipment. According to Kellogg Fire Chief Scott Van Waardhuizen, the donation will be used to purchase 10 and 12 foot fiberglass pike poles, a 50 foot forestry line hose, and a water extinguisher.
"The Grinnell Subchapter of the Iowa CPCU Society has a long history of supporting local fire departments," said Chapter President Todd Milburn. "When we are made aware of a need in our area we offer this kind of donation to show support for what these departments do for our communities. The subchapter raises funds through donations from employees at Grinnell Mutual Reinsurance Company."
The Chartered Property Casualty Underwriters (CPCU) Society is a community of credentialed property and casualty insurance professionals who promote excellence through ethical behavior and continuing education. Founded in 1987, the Grinnell Subchapter of Iowa CPCU Society was the first subchapter in the nation to consist solely of people employed by one company. Forty five Grinnell Mutual employees are members of the Grinnell Subchapter.
About Grinnell Mutual
Grinnell Mutual Reinsurance Company, in business since 1909, provides reinsurance for farm mutual insurance companies and property and casualty insurance products through more than 1,600 independent agents in 12 Midwestern states. Grinnell Mutual is the largest primary reinsurer of farm mutual companies in North America.