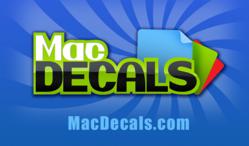 "Christmas is the most exciting holiday of the year." Says Pamela Loconto
Ft. Lauderdale, FL (PRWEB) November 30, 2012
Ho Ho Ho… It's that time of year again. Get out the decorations, and pull out that quirky colorful sweater because the holidays are here. Tis the season for sharing and giving and Macdecals.com is all about giving.
All through December Macdecals.com will have their holiday special where visitors get 50% off on orders over $50. It's very simple, go to the macbook stickers page, once you fill up your sled… I mean cart, with your favorite decals and stickers type the Promo Code [FESTIVUS] and check out.
"Christmas is the most exciting holiday of the year." Says Pamela Loconto - Founder of MacDecals.com "The staff is so filled with holiday spirit, they wanted to share this great promotion"
Macdecals.com high quality removable stickers and skins have a special adhesive that is reliable enough to stylishly decorate and protect laptops. Applying them is a simple process; check out this video on how to apply macbook stickers to get a better idea. Happy Holidays everyone!!!
About the company
Founded in 2011, MacDecals.com is the online store for custom Decals, Stickers and Skins. MacDecals specializes in designing and printing the highest quality vinyl decals and sticker graphics for electronic devices: Macbook, iPhone, iMac, iPad and iPod PC laptops, Car Windows, and more.
A proud, Made in the USA Business, Macdecals.com products are shipped nationally and extend across the globe. In addition to their constant growing selection of decal designs, stickers and skins they have a team standing by to make custom designs requested by customers. Check out this cool video they produced on how to make mackbook stickers.