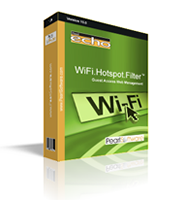 Exton, Pa (PRWEB) November 30, 2012
Pearl Software of Exton, Pa., in November finished upgrading its hosted web filtering solution known as Wifi.Hotspot.Filter. Hosted by Pearl, Wifi.Hotspot.Filter provides Internet filtering functions to organizations and companies in numerous industries. One area in which the program is particularly useful is in schools, where it helps administrators control the online content students are viewing and also prevents cyber bullying.
By directing DNS requests from guests to the Wifi filter, Pearl says a school gains a comprehensive web monitoring protocol without the need to add hardware or download other software. When a user calls up a URL, Pearl's servers either allow the website to load or redirect the request, should the URL be on the blocked list.
This also ensures that time spent by students using computers isn't used to surf adult-related websites or other sites that school officials deem inappropriate. Administrators at the school can select blocking levels that include general, enhanced and maximum.
Wifi.Hotspot.Filter also works to monitor bring-your-own-devices students attach to the network such as smartphones and tablets, giving schools total control of student Internet activity throughout the school day.
"With our latest upgrades, schools, companies and organizations have more comprehensive management of what students and employees are doing on the Internet," said Terri Rieber, Director of Sales. "These entities historically have lost time, money and productivity because of inappropriate Internet use on company or school time. Our solution is one way for them to prevent those losses."
Rieber said schools that use Wifi.Hotspot.Filter in conjunction with Pearl's Echo.Suite and Website.Echo products are able to stop a serious growing problem: Internet bullying.
"Echo.Suite gives school administrators the ability to completely monitor and control e-mail, chat, instant messaging, file transferring and other communications," Riber said. "This makes bullying and abuse, at least electronically, improbable, which is what every school needs."
Pearl says it designed Wifi.Hotspot.Filter to be easy to use, even for administrators who aren't familiar with web filtering products. Users are not required to install anything on their networks, and no maintenance efforts are required, since Pearl hosts the system on its own servers.
The product is quickly configured and inexpensive, so it's unlikely to be a drain on tight school budgets.
"The end goal we had in developing Wifi.Hotspot.Filter was to give schools the opportunity to spend more time doing what they're set up for: to teach students," Reiber said. "Now, a much higher percentage of class time can be spent on instruction rather than the teacher spending his or her own valuable time acting as an Internet nanny."
The Pearl Software Wifi.Hotspot.Filter is purchased as a license and is renewable yearly. The license fee is on a per-seat basis.