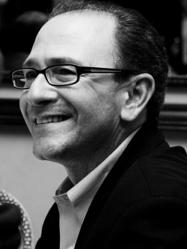 "I'll be unveiling several new video-related ad opportunities coming down the pike including those that leverage Carbyn, Synacor's new HTML5-based multi-device platform."-- Ron Bernstein, Online Sales & Operations SVP, Synacor
BUFFALO, NY and SCOTTSDALE, AZ (PRWEB) November 30, 2012
Synacor, Inc. (NASDAQ: SYNC), leading provider of next-gen portals, TV Everywhere solutions and cloud services across multiple devices for cable, satellite, telecom and consumer electronics companies, today announced Ron Bernstein, SVP Online Sales & Operations, will address key advertising industry executives at the iMedia Agency Summit in Scottsdale on Tuesday, December 4, at 8 a.m. MST.
The iMedia Agency Summit, which helps agency leaders and peers gain strategic vision on an increasingly integrated media landscape, draws more than 400 digital agency and publishing executives eager to forge lasting business relationships. Bernstein's session will discuss the new opportunities and impact of multi-device platforms during this transformative "Second Screen" era, including several new video-related digital advertising vehicles, as well as the multi-device apps platform based on Synacor's recent acquisition of HTML5 startup, Carbyn.
"Synacor is honored to be invited back to address top advertising executives attending this year's iMedia Agency Summit," said Synacor Online Sales & Operations SVP Ron Bernstein. "I'll be focusing on and unveiling several new video-related ad opportunities coming down the pike including those that leverage Carbyn, our new HTML5-based multi-device platform."
Synacor's next-gen portals or "startpages" deliver TV Everywhere, movies, games, music, sports, news, email services, utilities and more to tens of millions of consumers across multiple connected devices on behalf of cable, satellite, telecom and consumer electronics companies. Synacor has amassed a significant audience of 20+ million average monthly unique users and has developed a strong portfolio of ad products and targeting capabilities for advertisers.
Included among these capabilities is Synacor's Homepage Video Dynamic Spotlight, which offers a unique and integrated advertising approach that attracts users without interrupting their surfing experience. It's significantly more effective and user-friendly than traditional out-of-banner, rich media executions typically employed on portal homepages.
Mr. Bernstein is a sought-after keynote speaker and digital advertising expert. Prior to Synacor, Bernstein worked at AOL, where he held the position of Vice President, Product Ad Sales, as well as Vice President and General Manager at U.S. News & World Report. Additionally, Bernstein held executive roles at Rodale, Inc. and Travel Ad Network, and worked at GeoCities.com and Hachette New Media.
For more information on Synacor and its online advertising opportunities, please contact adsales(at)synacor(dot)com or visit synacor.com/advertisers. Synacor reaches over 24 million households, tallying a monthly average of 20 million unique visitors, 78 million search queries and 3.9 billion ad impressions.
About Synacor
Synacor's white-label platform enables cable, satellite, telecom and consumer electronics companies to deliver TV Everywhere, digital entertainment, cloud-based services and apps to their end-consumers across multiple devices, strengthening those relationships while monetizing the engagement. Synacor (NASDAQ: SYNC), is headquartered in Buffalo, NY. For more information, visit synacor.com.
Integrate. Authenticate. Engage.