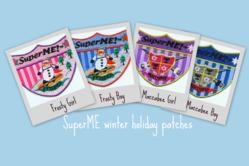 San Mateo, CA (PRWEB) November 30, 2012
SuperME, the innovative new line of cool preschool backpacks and kids messenger bags, launches new products.
SuperME launched a variety of superhero utility pouches and a collection of new patches just in time for the holidays. Inspired by the winter holidays, SuperME also introduced the Frosty and Maccabee patches, with boy and girl color versions of both designs.
The superhero utility pouch (MSPR $20) features two pockets – a zippered compartment at the top and a front pocket with a Velcro closure. SuperME utility pouches come with a coordinating eye mask, just like the one with SuperME's line of cape backpacks. As with all SuperME bags, the utility pouch comes standard with a SuperME hero patch.
SuperME developed the pouches in response to strong market interest in the utility belt and requests for a slightly larger belt-style bag. SuperME utility pouches are available in the Classic (red/blue/yellow) and Bubblicious (pink/purple/yellow) color combinations.
Inspired by Christmas in the Sierra Nevada, the Frosty patch (MSRP $5.00) shows a snowman snowboarding down a tree-filled snowy mountain, with his SuperME cape flowing heroically behind him.
Just in time for Hanukkah, the Maccabee patch (MSRP $5.00) tells the story of the ancient Maccabees, who chased King Antiochus and his men away from the land of Israel and how they reclaimed the temple in Jerusalem. When they went to light the eternal light to rededicate the temple, they found only one little jar of oil that was supposed to be enough for only one day. A miracle occurred and the little jar of oil lasted for eight days!
The Frosty and Maccabee patches are a fun, easy, and affordable way to add a little holiday spirit to children's everyday bags.
With the introduction of the superhero utility pouch, SuperME now offers 3 bag styles: cape backpack, convertible messenger bags and superhero utility pouches. And as with all SuperME patches, the new patches work with all SuperME bags.
SuperME products are available at http://www.supermehero.com and at select retailers.
About SuperME
SuperME is a San Francisco based company created by two Super moms: Daphne Kaufer and Rena Stern. The inspiration for SuperME came from their children, who love dressing up and carrying their own bags to school, parks, day trips, and vacations. Their goal for SuperME was to create a line of functional products that are fun to play with and reflect the uniqueness of each child. They believe that every child is a superhero, just waiting to be uncovered.