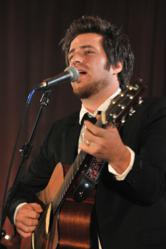 Schaumburg, Illinois (PRWEB) November 30, 2012
With over 1,000 attendees, 140 corporate and private sponsors, and hundreds of individual donations, The Gateway for Cancer Research℠ raised nearly $2.5 million for cancer research on Nov. 3 at its annual fundraiser, Cures 2012 Gala.
The star-studded gala is one of Chicago's biggest and brightest annual events. Dina Bair, WGN-TV medical anchor and cancer survivor was the gala's mistress of ceremonies. Evening highlights included a performance by American Idol winner Lee DeWyze with his moving rendition of "Hallelujah. Several members of the 1985 Chicago Bears Super Bowl team provided autographs and dignitaries from many of Chicago's largest corporations attended.
Featured guests included several clinical trial patients who served as an emotional reminder to the importance of The Gateway's mission: to fund cancer research in new drug investigations; novel combination therapies; and, complementary and alternative therapies (CAM) that will help cancer patients feel better, live longer or be cured TODAY!
One highlight of the evening was the introduction of a cancer clinical trial in multiple Myeloma, a type of blood cancer. The Gateway funds Dr. David Avigan of Beth Israel Deaconess Medical Center/ Dana Farber-Harvard Cancer Center in this promising cancer clinical trial. Dr. Avigan and his team have begun new research to provide multiple Myeloma patients with an extra cancer-fighting antibody that amplifies the body's immune response in its quest for a disease-free state.
One very poignant moment in the evening was the tribute to Ken Smith by his wife, Maryl. Ken, a Gateway board member for over 9 years, recently passed away from the very cancer that he fought so hard to raise money for on behalf of other cancer patients.
"We are truly amazed by the generosity of our sponsors and attendees and their unwavering commitment to fund cancer research," said Lynette Bisconti, President of The Gateway for Cancer Research. "The funding received tonight will allow The Gateway to continue its mission to fund cancer research to help cancer patients today."
Major sponsors of the event include: AmerisourceBergen; The Richard Templer Family; PNC Bank; Cancer Treatment Centers of America; Bank of America, Merrill Lynch, The Bonner Family; Rising Tide Gmbh; International Capital & Management Company; Magellan Corporation; BlueCross BlueShield of Illinois/HCSC; Insight; T. Danis Charitable Trust; Katten Muchin Rosenman LLP; Integrated Media Solutions LLC; Litchfield Advisories, Inc; Stellar Insurance Company; J.B. and M.K. Pritzker Family Foundation; CliftonLarsonAllan LLP; North Illinois Flight Center (N-Jet); Illinois Tool Works Inc.; Prime Logic Partners; Walgreen Company; and TEAM Companies.
The Gateway for Cancer Research℠ is a non-profit 501 (c) (3) organization committed to funding innovative cancer research and bold new ideas for lifesaving treatments. Thanks to generous underwriting, 99 cents of every dollar received funds cancer research to find better treatments and cures for today's cancer patients. Visit http://www.demandcurestoday.com and follow @DemandCures on Facebook and Twitter.