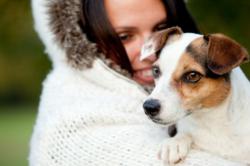 (PRWEB) November 30, 2012
The months are turning colder, and with the colder weather it's always a good idea for owners to be monitoring their dogs health. One health problem in specific that is important to be watching out for is mange in dogs. Mange is a problem often occurring in dogs which consists of rashes on their skin caused by mites, and frequent itching of those rashes. While continuing to take furry friends to the outdoor parks, it's good to be aware of how the cold weather and interaction with other dogs may be affecting them. Mites continue to live throughout the winter months and therefore continue to infect dogs. It is important to be incredibly careful while taking dogs outside if they have already contracted mange. Mange causes a loss of hair and animals may die or experience incredible discomfort from the cold due to the loss of their insulating layer of fur.
While it's commonly known that dog mange is caused by a wide variety of mites, it is crucial to know exactly what to look for and what the symptoms and signs of mange are. Dogs generally contract mites from an unclean, infested area or from other infected animals. Mange can be become very serious if left untreated and can spiral out of control. Dogs can tend to get a bit more scruffy in winter months due to the increasing amount of mud or puddles. However, there is a significant difference between unclean, scruffy fur, and fur that is plagued with mange. Symptoms such as hair loss, itching, irritation and scabs on the skin, all attribute to mange. While those symptoms are the most common, there are also more uncommon symptoms to be looking out for. Uncommon symptoms may consist of a fever, lethargy, and weight loss.
If dog owners believe that their dog has contracted mange it's critical to get treatment for them right away. The cold weather makes it increasingly difficult to deal with, as it may further dry out the dogs skin and cause more itching. It is important to contact a veterinarian immediately to begin a treatment plan specifically designed for the dog's infection. Dog mange treatment can often be a difficult task, as missing one small dosage of medication or the incompletion of treatment may lead to a re-infestation very quickly. It is also important to note that any animal that has come in contact with an infected dog must also be treated for mange, even if no symptoms are present. Those who have an outdoor dog or frequent the dog parks, must be sure to check their dogs for symptoms of mange regularly. It is best to identify and treat mange as soon as possible.
Mange in dogs is not easily treated with medicated shampoos, topical ointments and dips. The use of medicated ointments or dips may take between four to six weeks before the infection is resolved. Treatment plans may vary, as they depend on the type of mange the dog has contracted. If a dog is prescribed a medicated dip or topical ointment, the hair should be clipped as short as possible to ensure the product comes in contact with the skin. This further loss of hair, is also another reason why the animal may become increasingly sensitive to the winter air. Once a dog has contracted mange it is best to keep their skin protected and out of the harsh outdoor climate.
It is always important to maintain cleanliness within the home in order to prevent the contracting, or spreading of mange. This includes cleaning a dog's bedding and blankets, vacuuming and shampooing the carpets, as well as focusing on areas the dog plays and sleeps. These are all effective traits in ridding a home of mites and creating a comfortable living place for a dog. Mange can also be prevented by feeding the dog foods and vitamins rich with anti-oxidants. This will improve the dogs immune system, and will help fight off mites before they have a chance to burrow into a dogs skin.
Once again, it is critical to be maintaining pets cleanliness, especially within the winter months, as they are more often coming in contact with dirt and other dogs. Continuing to be aware of a dog's health and the animals that they are coming in contact with, is beneficial to both the owner and the dog. Keeping these facts in mind will help pets stay safe this winter and avoid major problems for the owners as well! For more information visit http://www.doghelpnetwork.com/mange-in-dogs/.