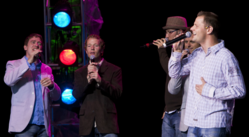 Salt Lake City, UT (PRWEB) November 29, 2012
Salt Lake Community College is holding a series of Christmas with Eclipse concerts from December 13-15 at the Grand Theatre, located at 1575 South State Street. All performances begin at 7:30 p.m.
Eclipse is an a cappella singing group comprised of six people who met while serving on a student group at Utah State University. The band released its first album, Once, in April 2001. Following the album release, the band won the Northwest Regional Harmony Sweepstakes Competition. Their first-place finish qualified the group for the National Competition, along with the eight other Regional winners.
Eclipse has released several albums since Once, including Think Twice, For Show, Grateful Praise and It's Christmas Time.
In 2003, Eclipse was named "Best Vocal Group" in Utah's Best of State awards and won the first of several "Group Recording Artist of the Year" from the Faith Centered Music Association's Pearl Awards. The band also received two Just Plain Folks Music Awards—the world's largest music awards program, honoring independent musicians in over 85 countries.
This is the eighth consecutive year the a cappella group will perform at the College.
Tickets are available for all three concerts and range between $7-17. Contact the Grand Theatre Box Office for tickets or more information at: (801) 957-3322.
About the College: Salt Lake Community College is an accredited, student-focused, urban college meeting the diverse needs of the Salt Lake community. Home to more than 62,000 students each year, the College is the largest supplier of workforce development programs in the State of Utah. The College is the sole provider of applied technology courses in the Salt Lake area, with 13 sites, an eCampus, and nearly 1,000 continuing education sites located throughout the Salt Lake valley. Personal attention from an excellent faculty is paramount at the College, which maintains a student-to-teacher ratio of less than 20 to 1.
###