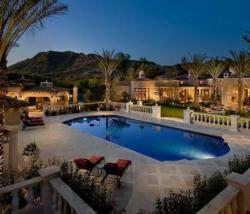 "We build custom homes, so we focused on that same quality of care when customizing our new site."
Scottsdale, AZ (PRWEB) November 30, 2012
Desert Star Construction (DSC), Arizona's preeminent builder of custom luxury homes in Paradise Valley and Silverleaf, announced the launch of its newly optimized, high-resolution image themed website (http://www.desertstarconstruction.com). The custom-designed site embodies DSC's forward-thinking vision and commitment to better connect with the needs of their ever-growing client base. Every page on the site welcomes visitors to a sleek, clean design, bold images of DSC's award-winning homes, landmarks, and commercial facilities, and moving slides with featured content centered on the DSC mission to consistently deliver quality, integrity, and luxury.
Enhanced features offered on the new website include:

Expanded DSC Gallery
Rotating testimonials on homepage and expanded testimonials section
Customer Legacy Map
Social media plugins including links to the Team DSC® profile on Houzz, Twitter, Google+, Facebook, and Pinterest
Team DSC® login platform for file sharing and personalized project resources
Optimized mobile application with iDSC® login capability
The site's "Experience" page showcases a dramatic image portfolio featuring the versatility of DSC's custom homes and remodels. A "View Project Details" button highlights team information and links to magazine and newspaper features. The uniquely organized DSC Gallery invites visitors to peruse albums of images specific to designated areas within the home.
"We build custom homes, so we focused on that same quality of care when customizing our new site," stated Jeremy Meek, DSC Sustainability Programs Manager and Project Manager. "When our clients visit the website, they are able to go to exactly what they are looking for."
"Our Philosophy" section highlights team biographies together with an elite lineup of architect and design partners, DSC's prevailing commitment to community service, and a "For Fun" section that shows a lighter side to the DSC building process.
"Every one of our projects acknowledges the entire team," affirmed DSC President Jerry Meek. "We want to show the process, the stages of different projects, and our longevity. Our clients become an integral part of our team when they log in to the Team DSC® portal. This is also available as a mobile application, made especially for our clients to access all the information related to their exclusive project at their convenience."
The "Sustainability" tab educates visitors to DSC's commitment to green building initiatives. "By The Numbers" is a graphic display that directly shows the positive impact of their conservation efforts. Being the first custom builder to complete a LEED certified full-service restaurant and the first LEED certified residential project in Paradise Valley, DSC has set the standard for the use of sustainable materials and technology throughout the state of Arizona.
The "News" and "Build With Us" pages serve to provide visitors with new information regarding DSC's press and media links, awards, and client testimonials. The DSC website and social media platforms will continue to feature different types of content inspired by DSC's resources and growth.
"Instead of resisting changes in technology, we embrace it. We learn how to use these tools to help us," stated President Jerry Meek. "That's why we focus on what's next, because we want to be the first to do it. That's part of what makes us Desert Star. That's why we have The DSC Standard®, and why we're committed to be your Builder for Life®. We want to be ahead of what's out there. Our clients know we'll be there all the way." Visit the newly customized Desert Star Construction website at http://www.desertstarconstruction.com.
About Desert Star Construction
Since 1978, Desert Star Construction (DSC) has produced award-winning new construction and remodel projects that have gained the attention of respected clientele including local leaders, professional athletes and Fortune 500 company presidents. As a member of the U.S. Green Building Council and the first custom home builder in Arizona to employ a LEED for Homes Accredited Professional, Desert Star can ensure the highest standard of sustainable living through a lasting commitment to green initiatives. With a personal approach to home building that begins with listening and understanding every client desire, the DSC mission is to construct unique and innovative homes with passion and integrity while building quality relationships. Learn more about Desert Star Construction at http://www.desertstarconstruction.com.