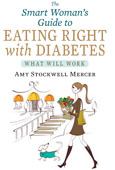 "Many myths are dispelled throughout this book, making commonly asked questions easy to understand."—Marlisa Brown MS, RD, CDE, CDN, Author of Gluten-Free, Hassle-Free
New York, NY (PRWEB) November 29, 2012
With approximately 30 million people with diabetes in the United States and another 80 million with pre-diabetes, there are almost as many different opinions on how to eat right for diabetes. The Smart Woman's Guide to Eating Right with Diabetes is here to help. Although there is no one size fits all when it comes to eating right with diabetes, author Amy Mercer Stockwell, who has lived with the disease for 27 years, dispels the myths and brings in the experts. Her friendly voice provides a comforting, accessible guide for those seeking advice on healthy eating and diabetes.
When diagnosed with diabetes the first thing a person asks is what food they can eat. This book educates people living with diabetes about different diets available in an informative, thoughtful and user-friendly way. This book really offers advice that will enable readers to find what works best for them.
Each chapter focuses on a different type of diet such as: low carb, vegetarian, high carb/low fat, and more. Each offers solid research and the latest findings on these diets in Amy Stockwell Mercer's approachable voice. In depth profiles of type 1 and type 2 men and women who have had success with these diets are included as well as tips, "my favorite recipes," and personal advice. Factual information is provided from professional nutritionists, educators and endocrinologists.
This book will encourage you to eat right and reads like a conversation with a good friend.
In 2007, Demos Medical Publishing launched Demos Health, a new imprint for our growing list of health and wellness titles for consumers. This imprint furthers our company mission to bridge the gap between consumers and the healthcare community, and solidifies Demos's position among the leaders in health care publishing.