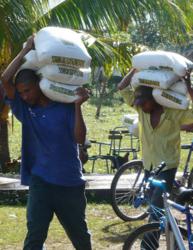 Talking about the school fair he attended, mayor of San Gaspar Ixchil, Cristóbal Godínez, stated "These are simple practices that help improve the health of the children. Thank you, PCI, for doing these activities and furthering these initiatives."
Washington, DC (PRWEB) November 30, 2012
PCI Guatemala is highlighted in a new study commissioned by the Alliance for Global food Security (AGFS). AGFS, of which PCI is a member, is a coalition of fourteen private voluntary organizations and cooperatives that are committed to addressing global hunger, malnutrition and food security. They operate in 100 developing countries, implementing programs that improve nutrition, agriculture and livelihoods and build the capacity of local communities, enterprises, and institutions. The study conducted by Informa Economics demonstrates the benefits and best practices of monetization, the process by which development organizations like PCI sell commodities on local markets and use proceeds to implement development programs that benefit local communities. The study conclusions were presented to a group of government representatives on November 28 in the Longworth House Office Building at the US Capitol. The presenting panel included Ambassador Christopher E. Goldthwait and other experts in international food aid.
The U.S. provides food aid overseas to promote development and food security and to address emergency needs. While a vast majority of this aid is directly distributed to individuals, a portion may be sold -- monetized -- and the proceeds used for longer-term development programs. The monetization study commissioned by AGFS evaluates data from specific monetization cases against potential risks and benefits. It identifies how monetization can provide benefits to the recipient country beyond using the sales revenue for development activities. The report also identifies ways to minimize adverse impacts to local markets or commercial trade. The report summary may be found at http://www.foodaid.org
Providing the commodity through the marketing system of the recipient country produces a variety of benefits, according to Ellen Levinson, Executive Director of the Alliance for Global Food Security. Ms. Levinson commented, "Hopefully, this study will dispel the notion that food aid is somehow 'inferior' to providing cash directly to conduct programs. At the most basic level, monetization has a double benefit in a food insecure country: it provides a commodity that is in short supply and generates funds to carry out programs that improve food security and economic development. What's most revealing from the Informa study is that the design of a monetization program can also address market constraints, stimulate economic activity or improve the quality of the food supply."
PCI is currently implementing a three-year, USDA-funded McGovern-Dole International Food for Education & Child Nutrition Program (FFE) in six municipalities of Huehuetenango, Guatemala. PCI monetizes a portion of the food donated through its FFE program to cover core costs associated with internal transport, shipping and handling of donated food commodities to the schools. The program is designed to increase enrollment, retention and attendance rates of nearly 30,000 pre- and primary-school students through the provision of daily school meals. Special emphasis is placed on reaching the region's most vulnerable groups, including girls and indigenous populations. Complementary activities include: health, nutrition and hygiene training; water disinfection; school garden construction; and infrastructure construction (e.g. school latrines, kitchens, energy-saving stoves, etc). One of the methods used to engage program participants are through school fairs. School fairs have grown to be a popular platform for students, parents, teachers, municipal authorities, and even local business people to meet and share knowledge about how to improve education, health, and food and nutrition security.
Talking about the school fair he attended, mayor of San Gaspar Ixchil, Cristóbal Godínez, stated "These are simple practices that help improve the health of the children. Thank you, PCI, for doing these activities and furthering these initiatives. This was the first time that an event like this has happened in our town. It never would have happened and I would like to thank PCI for this unique experience!"
Celebrating its 50th anniversary in 2011, PCI (Project Concern International) is an international health, development and humanitarian assistance organization, operating in 16 countries worldwide. PCI is dedicated to saving lives and building healthy communities around the globe, benefiting over 6.7 million people annually in Asia, Africa and the Americas. Funded by federal grants and private support, PCI's current annual budget is nearly $50 million and the organization has 600 employees worldwide. PCI's headquarters are located in San Diego, CA and also has an office in Washington, DC and a Seattle, WA representative.
########################