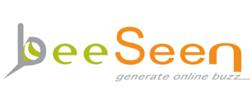 San Francisco, CA (PRWEB) November 30, 2012
BeeSeen, a San Francisco based E-Marketing agency, believes in giving back to the community and special charities. It does so by volunteering time or by donating funds to organizations to help with research to find cures for debilitating and fatal diseases such as Lung Cancer, Breast Cancer and Leukemia. BeeSeen continues to offer generous donations (either in time or money) to non-profit organizations.
BeeSeen is also helping companies effected by Hurricane Sandy. Its newest client is an entertainment law firm client, based out of New York City. The law firm's office, capacity to work and services were all abruptly interrupted and put on hold resulting from the devastation and aftermath of Hurricane Sandy in late October 2012. A significant discount for Search Engine Marketing Consulting was offered for services to help this client get back on track and gain some boost to their existing online marketing efforts after the slowdown in their business.
It is true that you get what you give. Especially during the Holiday Season, there seems to not be a more fitting time to offer some goodwill and assistance to small businesses, charities, non-profit organizations or groups that support special causes. The volunteer projects and discounted rates for small businesses will be evaluated on a case-by-case basis, depending on the special and unique severity or urgency of the particular situation. BeeSeen wants to extend sympathy and compassion for those in situations of need all year round, on an on-going basis, by accepting and reviewing applications for special causes.
About BeeSeen:
BeeSeen focuses on E-Marketing services to help companies increase their online visibility, and more importantly increase their sales. The following is a breakdown of some of BeeSeen's core capabilities: E-Marketing Strategy, Search Engine Marketing (SEM) including Search Engine Optimization (SEO) and Pay Per Click (PPC) Management, Display Advertising, E-mail Marketing, Social Media Marketing, Revenue and Conversion Lift Consulting and Website Analysis and Reporting. More information on BeeSeen can be found on their website: http://www.beeseen.com.