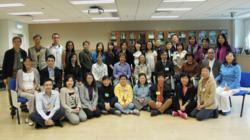 "Richard, thank you so much for bringing us the greatest gift in our life"
Santa Monica, CA (PRWEB) November 29, 2012
Quantum-Touch has been a widely used healing modality since 1995. With more than 1,000 certified practitioners and 300 certified instructors across the world this amazing healing modality is spreading rapidly throughout the world. Quantum-Touch teaches simple, effective techniques to accelerate healing.
Richard has traveled the world extensively giving interviews, lectures and workshops on his courses: Quantum-Touch Level I, Level II and Self Created Health. Most recently, the University of Hong Kong invited Richard out to give a two day workshop as well as as being a keynote speaker to share his latest work called, "The New Human."
During his workshop Richard Gordon opened the door for everyone to become a healer by demonstrating a basic human ability that anyone can learn to use. He gave multiple demonstrations including adjusting the posture of a stage full of people simultaneously in just seconds.
Among other participants that were filled with joy and happiness from the workshop, Elizabeth Kwok a Quantum-Touch Level I and Level II certificed instructor said to Richard, " thank you so much for bringing us the greatest gift in our life."
To learn more about the Quantum-Touch, please click the link below:
http://www.quantumtouch.com
ABOUT QUANTUM-TOUCH, INC.
Quantum-Touch, Inc. strives to educate people about the efficacy of a natural healing method that taps the "Life Force Energy" of the human body with which people can enjoy both mental and physical wellness. It is the Life Force Energy that sustains life in all the living beings. Chinese call this energy as "Chi". This is also known as "Prana" in Sanskrit. The techniques taught by Quantum-Touch are simple but highly effective.