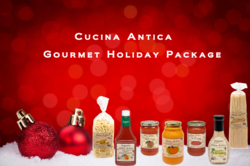 Warm the heart of someone special this holiday season with Cucina Antica's Gourmet Holiday Package
Mount Kisco, New York (PRWEB) November 30, 2012
The holiday season is a time to gather with friends and family; enjoying great conversation and delicious food, however it is also known to be one of the most stressful times when it comes to shopping for that special gift for that special someone on your list.
This holiday season Cucina Antica Foods Corp. is offering some help to all those who need an inspirational and affordable gift idea, by posting their Gourmet Holiday Package on their website, cucina-antica.com. This Gourmet Holiday Package offers a delicious variety of products including an organic ketchup, imported Italian artisan pastas, a pizza sauce, a tomato basil cooking sauce plus a free organic low fat Italiano dressing and jar of their new Tuscany Pumpkin Pasta Sauce. In addition, Cucina Antica are offering free shipping for this package to help customers save money this holiday season.
For this gourmet package and some recipe ideas, be sure to visit cucina-antica.com.
Cucina Antica Foods Corp. is a family owned and operated company located in Westchester County, New York. For over 14 years, Cucina Antica Foods Corp. has provided families with all-natural, fresh sauces as well as organic dressings and ketchup, imported Italian pastas and extra virgin olive oil. Recently, Cucina Antica has introduced Tuscany Pumpkin Pasta Sauce to their all-natural line of cooking sauces. For more information,please visit cucina-antica.com