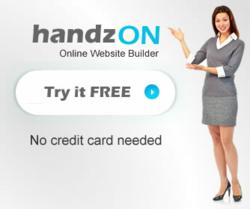 Handzon offers CSS and HTML editing for Website Designers and Webmasters
San Francisco Ca (PRWEB) November 30, 2012
Handzon, the website building software as a service, launches advanced editing tools that go well beyond those of other online web site builders. These advanced options allow for professional designers, as well as HTML coders to extend customizable snippets of code on each individual object on any webpage built within the Handzon System. In addition to HTML options, during the editing of a website, advanced users can customize the CSS [Cascading style sheets] of each individual object on a page.  
Editing the CSS of each individual element offers consistency throughout the web site, allowing for quick style changes throughout the pages of the website. In addition, web sites will function more efficiently, have better browser compatibility, a smaller website footprint, and faster pages. By separating the content from the styling of the page, search engines also will be able to crawl web pages unobstructed, resulting in higher search engine placement.
These customizable features are now included as part of the Handzon free website service. Although these advanced options are focused around experienced web site designers and webmasters, Handzon automatically provides CSS for all pages for the beginner as well. By using the free template builder provided by the software, users are creating CSS automatically. The moment changes are made to a website template, the HTML and CSS are updated in the background behind the scenes. The added advanced tools simply allow experienced users to extend the power of HTML and CSS throughout the pages, thus offering more control of each element within a website.
About Handzon Website Software
Handzon launched website services in 2001, creating one of the very first online web site builders. Today Handzon provides website services to thousands of web sites worldwide. In January 2012, Handzon released a free ad supported version of the software, offering 30 pages, 50MB of storage, 4GB of bandwidth and free E commerce with a Paypal shopping cart.
For more information call (415)-320-7483.