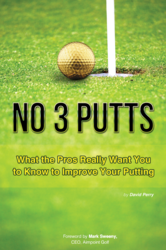 "90% of players that come into our shop cannot aim their putter over the hole from 6' away" Andy Thompson
Fort Collins, CO (PRWEB) November 30, 2012
The No 3 putts book is an excellent gift for all golfers and compiles the putting knowledge, experiences and lessons learned from top rated golf instructors and club fitters. The insights from these professionals can be applied immediately by golfers of all skills levels. The forward to the book is by Mark Sweeney, CEO AimPoint Golf.
"My goal in writing the book was to raise the awareness and importance of putting in the game of golf," says Perry. "Too many golfers take putting for granted and do not understand some of the basic elements of putting." he adds. "If golfers raise their awareness and appreciation of putting, their game will improve, enjoyment will go up, play times will decrease and golfers will play more often."
The book contains real world information, such as how well golfers really aim their putters, which will open the eyes of many golfers to the reality and challenge of the putting experience. This is a must read for golfers of all levels who want to better understand the putting environment and improve their game.
Signed copies of the book are available at http://www.no3puttsbook.com, while unsigned copies are available at Amazon. Please visit the website for more information, a free excerpt is available.
Dave can be reached at dave(at)50interviews(dot)com