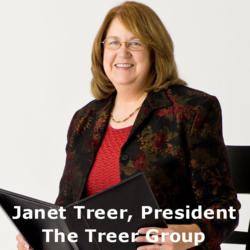 Research clearly shows that self-awareness and authenticity are important success factors.
Lancaster, PA (PRWEB) November 30, 2012
The Treer Group has utilized data from Innermetrix, Inc. research to develop a new, more effective approach to executive coaching and business coaching. The approach focuses on developing the self-awareness and authenticity of individuals in their professional and personal lives.
"The average person is between 50% and 60% self-aware and authentic, while highly successful people reach the 89% to 91% level," says Janet Treer, President of The Treer Group, a strategic planning, coaching, leadership development and management consulting firm based in Lancaster, PA. "We help individuals develop these traits, which are clearly predictive of success."
According to an exhaustive, seven-year study by Innermetrix, the most successful people share two characteristics, which can be improved utilizing the following actions:
Self-awareness

Take a scientifically valid personality and strengths assessment
Utilize 360 degree evaluations
Seek ongoing feedback from all levels of coworkers
Authenticity

Increase self-awareness
Periodically examine behavior
Be open and honest
Commit to being authentic and stick with it
"Some individuals can achieve good results on their own, but outcomes greatly improve with skilled coaching," says Treer. "Everyone should strive for these vital traits."
Subscribe to Management Updates, The Treer Group's Monthly Bulletin
Read Janet Treer's blog: Manage2Succeed
About The Treer Group: The Treer Group provides coaching, assessments, tools and guidance to help organizations and individuals identify areas in need of improvement, discover practical solutions and implement long-lasting change that comes from within. Janet Treer, President, founded The Treer Group in 2007.