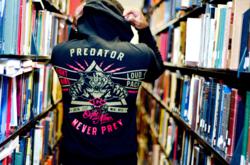 "The US Drift Circuit event was dope, we're stoked to be a part of the event and pleased with how highly our driver placed" - Elliot Macaluso
Miami, FL (PRWEB) November 30, 2012
In it's first official drift competition team 8&9 in collaboration with AP Dynamics took over the US Drift Circuit held at the Seminole Coconut Creek Casino. Team driver Josh Finkelstein driving a Nissan 240sz placed 3rd in the solo class competition while Bill Stenger took 2nd in the tandem class.
The competition was the first from the US Drift Circuit. Elliot Macaluso, director of lifestyle marketing at 8&9 says of the event "The US Drift Circuit event was dope, we're stoked to be a part of the event and pleased with how highly our driver placed despite some technical obstacles." 8&9 had their AP Dynamics collaborative merchandise booth and several branded vehicles on display.
8&9 Clothing is a Miami based streetwear company. South Florida drifters can expect more from the team as the next event approaches December 16th. Enthusiasts can check 8and9.com for more information, pictures from the event. Or follow @8and9 on twitter.