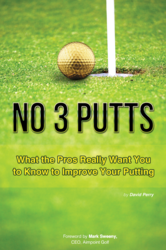 "Putting is the fastest area in the game to save 5 shots a round," Dan Schwabe.
Fort Collins, CO (PRWEB) November 30, 2012
In preparation for the 2013 golf season, special pricing is available for inclusion of No 3 Putts in promotion/coupon books and programs. Golf, travel, and marketing directors compiling their 2013 promotion books can now include No 3 Putts as one of the items to offer their clients.
"The book is designed raise the awareness and importance of putting in the game of golf," says Dave "No 3 Putts" Perry. "If golfers raise their awareness and appreciation of putting, their game will improve, enjoyment will go up, play times will decrease and golfers will play more often."
The book, which can be customized, is a great addition to golf promotions, programs, tournaments and events. The real world information, from top putting instructors and club fitters, will open the eyes of many golfers to the reality and challenge of the putting experience. This is a must read for golfers of all levels who want to better understand the putting environment and improve their game.
Please contact the author at dave (at) 50interviews (dot) com for program details.