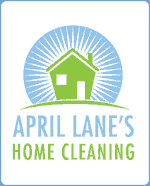 Seattle, WA (PRWEB) November 30, 2012
Another holiday season is rapidly approaching, signaling the most difficult time of year for keeping the house clean. Everyone knows it, the holidays are something of the perfect storm for big, out of control messes that will monopolize a persons time and leave any given person dreading the season. All at once, houses will see an increase in traffic, more and messier foods and the inevitable clutter that defines the gifting season, all this while trying to impress guests. So, Seattle house cleaners, April Lane's Home Cleaning, is offering a few quick tips for avoiding the biggest holiday messes by identifying where and how they are most likely to occur.

The Food Conundrum - Food is obviously a huge part of the holiday season. Of course many of the best holiday dishes and confections are some of the messiest foods that we serve indoors all year. This, combined with an increase in the number and frequency of guests, can make keeping the house clean be a very difficult task. First, be sure to clean up all food related messes right away, especially in the kitchen following preparations. Don't get behind, the holiday season is just too busy. Also, try to serve guests food that is best enjoyed by sitting at a dining room table to avoid spills. Flimsy paper plates are never a good idea. Also, make sure to choose wisely when it comes to certain holiday delicacies, but do not get rid of them altogether.
High Traffic Areas - Try to have carpets professionally cleaned by a Seattle home cleaning service before the season, it can make all the difference when making a house be in tip top shape. If not, don't worry. Often, decorating the house can force the moving of furniture, thereby altering traffic patterns and exposing fresh, untrod upon areas. To keep carpets clean, be sure to have good quality doormats that are equally good at removing dirt and soaking up moisture, without becoming too soaked themselves. Olefin is an inexpensive synthetic fiber that does both well, but has some durability issues. That's ok, just have a couple replacements on hand, the holidays don't last forever.
Trees, Ornaments and Decorations - Christmas trees, real or artificial, are one of the biggest contributors to messes of the season. Since nobody likes vacuuming 10 times a day, be sure to keep any real tree well watered to help prevent a glut of needles from falling off. Artificial trees may not have the needle problem, but the dust they collect can be problematic. This is true of all ornaments and decorations that people splash around their homes. The only real solution is to limit how long they are displayed, perhaps choosing instead to apply festive touches in stages.
Prepare for the Clutter - Most importantly during the holiday season, prepare for the clutter of gifts. Go through children's toys and clothing and remove unused items to make room for new stuff before the gifting begins. This can even provide a way to find out what they may want or need. It is also a great opportunity for toy and clothes donations to charity.