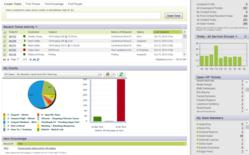 The Giva Home Page Dashboard saves each service desk team member 2.5 hours per day by providing constant visibility to hot spots and highlighting critical issues with charts, metrics and analytics." David Burne, IT Leader, Saint Elizabeth Health Care
Santa Clara, California (PRWEB) November 30, 2012
Saint Elizabeth Health Care has increased the productivity of its IT service desk team by approximately 40% by implementing the Giva Service Desk Management Suite. Productivity improvements come from automation that eliminates many manual steps, providing instant visibility to hot spots and critical issues and better measurement of service desk team productivity.
Saint Elizabeth's team of 6,500 health care professionals work out of the company's 25 offices located across Canada or remotely from their homes. The IT service desk team is busy nearly 24X7 ensuring the security, performance and application availability of the company's suite of private cloud applications. Saint Elizabeth made a long term partnership commitment to the Giva Service Management Suite including Service Desk, Knowledge Base, Hardware and Software Asset Management, Asset Auto Discovery and Change Management modules.
"We selected Giva because it provides a competitively price bundle of services with better features and functions to meet our requirements," said David Burne, IT Leader for Saint Elizabeth Health Care. "Our IT team was able to configure and fully customize the Giva cloud without consultants in only 10% of the time it would take to configure and install a similar customized software suite. Giva provides a well-thought out selection of meaningful reports and provides the ability to highly customize them or build and share new reports with little effort." [Click to download the case study.]
Saint Elizabeth went live using Giva after only a week of internal work. The company estimates that it will realize a 50% lower total cost of ownership (TCO) over a three year period considering initial and lifetime cost such as hardware, software, maintenance, training, administration, upgrades, support, integrations, future customizations, etc.
"Giva has significantly improved our workflow through automation that eliminates many manual steps," Burne said. "The service desk's Home Page Dashboard saves each service desk team member 2.5 hours per day by providing constant visibility to hot spots and highlighting critical issues with charts, metrics and analytics."
Additional IT service desk productivity improvements come from the fact that issues are more quickly assigned to an owner and employees can see responses to questions instantly and take immediate follow-up action. Hot issues are now instantly visible to the IT service desk team. "As IT leader, my own productivity has increased over 40% because Giva saves time monitoring the IT service desk," Burne said.
About Giva:
Giva is an award-winning provider of cloud computing SaaS (Software-as-a-Service) for the ITIL Help Desk, Customer Service/Call Center and the Service Desk. Visual reporting, management dashboards and an intuitive design, make the Giva Service Management™ Suite very powerful and at the same time very easy to use. Customizations are all point and click (i.e., no programming necessary) so the result is a dramatically lower total cost of ownership when compared to other products that require programmers and trained consultants. Giva is a private company headquartered in Santa Clara, California serving delighted customers worldwide. For more information, please visit http://www.givainc.com.
PR contact:
Email: pr(at)givainc(dot)com
Phone: 408.260.9000