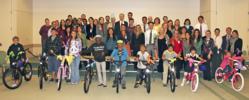 Loma Linda, Calif. (PRWEB) November 29, 2012
Nine teams from the Loma Linda University Health Office of Advancement assembled nine bicycles on Thursday, Nov. 29, to spread a bit of holiday cheer to nine Inland Empire kids selected by the Children's Fund.
Rachelle Bussell, senior vice president for advancement at Loma Linda University Health, said the purpose of the special exercise was to engage the advancement team—from the departments of marketing, planned giving, public relations, philanthropy, and stewardship—in giving back to the community.
"These are the people who are usually asking others to contribute money to the university or publicizing it in the press," Bussell said. "We just thought it would be good for them to get an early start on the giving that characterizes the season."
When members of the advancement team arrived at the Wong Kerlee International Conference Center at 2 p.m., they were assigned to work teams to assemble the bicycles.
The bike assembly activity was suggested to the team-building task force by Billy Hughes, dean of the School of Pharmacy at Loma Linda University. Dr. Hughes sponsored a similar event two years ago in which pharmacy faculty and staff built bikes for underprivileged or at-risk children.
Davieone Marshall, an eight-grade student from Kolb Middle School in Rialto, said owning a brand new bicycle represents something very special for him.
"It means I got something I really own," he said. "I feel good for that."
When asked what the new bike would allow her to do, Britnie Beltran, an 11-year old who attends Lyle S. Briggs Fundamental School in Chino, had a short, but comprehensive reply.
"I can ride around," she said with a smile.
Children's Fund was created in 1986 and is the non-profit member of the San Bernardino County Children's Network.
Photo Caption: Members of the Loma Linda University Health Office of Advancement gather with nine Inland Empire children selected by Children's Fund to receive a brand new bicycle on Thursday, Nov. 29. The advancement team members built the bicycles as a way of giving back to the community.
###
About Loma Linda University Health (LLUH)
Loma Linda University Health includes Loma Linda University's eight professional schools, Loma Linda University Medical Center's six hospitals and 800 faculty physicians located in the Inland Empire of Southern California. Established in 1905, LLUH is a global leader in education, research and clinical care. It offers over 100 academic programs and provides quality health care to 40,000 inpatients and 1.5 million outpatients each year. A Seventh-day Adventist organization, LLUH is a faith-based health system with a mission "to continue the teaching and healing ministry of Jesus Christ."