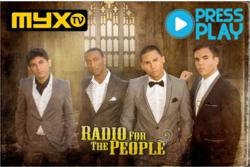 The youth of their career has never been a hindrance to their social consciousness, using music as a means for philanthropy.
Redwood City, CA (PRWEB) November 30, 2012
This week, independent music phenom, Radio for the People, leaps from radiowaves to the airwaves and into ten million homes through Myx TV's Press Play. The Orange County-based group debuts their hip hop, R&B, and electronic music this week on their television premiere. Showcasing the best of independent music artists around the United States, Myx TV will be the first to broadcast dozens of their music and videos. Catch an all-new episode of Press Play on November 30 on Myx TV at 9pm/8 central.
After responding to a Craigslist ad for male vocalists, Rochone Anderson, Kevin Clausen, Eric Alavez, and Matt Iya began singing once a week as a group. Realizing that their collective dream was bigger than a once a week meet-up, they began writing their own original songs and jotting down lyrics to provide the next generation with music that would speak the language and memorialize a new age and era.
Radio for the People then participated in America's Got Talent and has since performed for major sports events and shows. But it was a gig to perform for kids in the Los Angeles County inner city that brought them back to their roots of making good music. "To have such a positive effect on kids who are not exposed to the arts enough is always a special gift for us," said Rochone Anderson, songwriter and producer for Radio for the People. "It was beautiful to see some of the young kids attach themselves to a different member in the band. We felt like big brothers to these amazing kids." The youth of their career has never been a hindrance to their social consciousness, using music as a means for philanthropy.
Their music influence is broad – from Michael Jackson to Usher, The Temptations and Beyonce. No single artist captures their unique style that is evident in their popular track, "Broken Record" and "Get Wid It," which garnered the top votes on this week's episode of Press Play. Their cover of K-Pop chart-topper "I Love You" by South Korean girl group, 2NE1 - best known for their multiple straight "all-kill" singles – also stamped their online fame.
Radio for the People is a quartet of baritones and tenors whose harmony blends traces of rasp, range, and smooth soul. Inspired by their cultural diversity, they set out to create music that will touch people from every walk of life. They are artists that believe in promoting positivity, tolerance, and hard work.
"Our experience with Myx TV has been a great outlet for us," said Anderson. "We love that they are a station dedicated to introducing talent to the world, not for profit, but because they love music."
Three years in the making, their debut album is scheduled to launch in spring of 2013.
Also, catch original music videos by The Adarna, Random Ninjas, Alfa, Witty, and Tony T. Nguyen on the fourth episode of Press Play on Myx TV - where you decide who gets played! For exclusive behind the scenes clips and local cable listings in the city where you live, visit http://www.myx.tv.
ABOUT Myx TV®:
Myx TV is the premier Asian American entertainment and lifestyle cable network in the United States. Dedicated to airing the best in entertainment, Myx TV's programming is a unique combination of original and syndicated shows, including magazine talk shows, interactive music video countdowns, independent film and Asian cinema, and animation, airing 24/7 in English. Broadcast in over 10 million households across the country it provides a platform for Asian Americans on mainstream television and is also represented on its official website by a community of bloggers from coast-to-coast. To find Myx TV in your area and for exclusive content online, visit http://www.myx.tv.