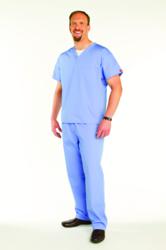 I was sick of being so large. I felt I was being a poor role model for my patients who were themselves struggling with weight control and lifestyle changes.
Fort Washington, PA (PRWEB) November 30, 2012
Nutrisystem reveals the latest real-life weight loss success story. Dr. Michael Haney admits that he has struggled with weight since childhood. In college he managed to do what most students don't – he lost 100 pounds. But the demands of medical school and residency – where a round-the-clock schedule leaves little time for exercise and meals are often made up of fast food or high-cal drinks – allowed the pounds to creep back on. "I found myself eating unhealthy food all day and at odd hours during the night while working," remembers Dr. Haney.
As the father of three prepared for job hunting post-residency he was embarrassed about having to buy a new wardrobe for interviews. "That is when it really hit home how overweight I had become," says Dr. Haney.
"Sick of being so large"
Dr. Haney realized he had focused so much on his family and his patients during his training period that he had neglected himself. "I was sick of being so large. I felt I was being a poor role model for my patients who were themselves struggling with weight control and lifestyle changes."
A recent study looked at the impact of physician Body Mass Index (BMI) on obesity care and beliefs. The study found that normal weight physicians were more likely than overweight doctors to talk to their patients about weight and had greater confidence in providing diet and exercise counsel. And not surprisingly, more physicians at normal weights believed that overweight/obese patients would be less likely to trust weight loss advice from overweight/obese doctors.
Dr. Haney made the decision to "do something for myself" and ordered Nutrisystem. He found the program easy to follow and liked both the taste of the food and the convenience. Says Dr. Haney: "I never felt hungry and I had the energy to get through my long, challenging days." He saw great results and added walking, jogging and biking to his routine, which boosted his weight loss and also allowed him to do fun activities with his family. Dr. Haney has lost a total of 125 pounds on Nutrisystem. *
"We are encouraging our kids to be active and pursue a healthy lifestyle," says Dr. Haney, who is now even more so the role model he always wanted to be as both a father and a physician.
*Results not typical.
On Nutrisystem®, you can expect to lose at least 1-2 lbs. per week. Individuals are remunerated. Weight lost on prior Nutrisystem® program.
To view additional Nutrisystem success stories like Dr. Haney's, and for more information on the Nutrisystem® SUCCESS™ program and to order today, please visit http://www.nutrisystem.com/success4u or call 1-888-841-2572.
About Nutrisystem
Having helped Americans lose millions of pounds over the last 40 years, Nutrisystem, Inc. (NASDAQ: NTRI) develops evidence-based programs for healthy weight management, and is the leading provider of home-delivered weight loss meal plans. Nutrisystem offers balanced nutrition in the form of low glycemic index meal plans designed for men and women, including seniors, vegetarians and the Nutrisystem® D® program for people with diabetes or at risk for type 2 diabetes. Nutrisystem® plans include a wide variety of pantry and frozen entrees and snacks to aid in program satisfaction and adherence, as well as transition plans to support long-term success. The Fort Washington, PA-based company also provides weight management support and counseling by trained weight-loss coaches and registered dietitians, as well as through an engaged online community, online tools and trackers, mobile apps, cookbooks and more. Healthcare professionals may learn more about the programs by visiting http://www.nutrisystem.com/hcp. The Company has also introduced a new in-store retail line, Nutrisystem® Everyday™ products, comprised of nutritionally balanced bars, smoothies, bakery and breakfast items aimed at consumers who aspire to eat healthier.