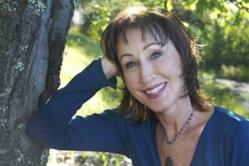 "The program showcases a stellar lineup of speakers -- all trailblazers who have forged new paths, new kinds of businesses and new paradigms that reflect both the power and grace so needed in our evolving world," said Wendy Wallbridge.
MENLO PARK, CA (PRWEB) November 30, 2012
TEDxSandHillRdWomen 2012 will bring together a unique group of influential women and men to showcase bold ideas and best practices to inspire other Silicon Valley women to fully engage and unleash their full potential. The program will feature a global visionary, a business creation expert, an environmental activist, and a pioneer in the emerging field of gender lens investing, as well as an author who will unveil a breakthrough study on feminine strengths and their correlation to leadership.
Hosted by Wendy Wallbridge, TEDxSandHillRdWomen 2012 will take place on December 1, 10 a.m. – 5 p.m., at the Quadrus Conference Center, Menlo Park, CA, and will live stream several sessions from the TEDxWomen2012 Conference, held concurrently in Washington, D.C and 150 locally organized TEDx communities around the globe. http://tedxsandhillrdwomen.com/
The theme of TEDxSandHillRdWomen 2012, "Women Rising", celebrates innovative ideas and solutions that draw from feminine values and strengths like flexibility, collaboration and connection that are dramatically changing the world:

Feminine values, traits and strengths are now prized and sought after
Women's leadership positively impacts GDP and economic growth
When women lead it creates a society that works for all
This inaugural year's speakers include:
LYNNE TWIST: a global visionary, co-founder of Pachamama Alliance and leader for 20 years of The Hunger Project an organization formed to end world hunger, Lynne has devoted her life to an environmentally sustainable, socially just and spiritually fulfilled world.
JULIE GILBERT NEWRAI: a successful entrepreneur that's driven new business growth of more than $11 billion for organizations like Best Buy and Deloitte and a senior strategic advisor for The White House Project and the Harvard School Women's Board.
BETSY HALL MCKINNEY: a social entrepreneur, philanthropist, former journalist, and member of the Women Donors Network, spearheading the "Reigniting Women" Initiative.
JACKIE VANDERBRUG: a pioneer in the emerging global field of gender lens investing and founder of Women's Effect Investments Initiative.
MELINDA KRAMER: founding director of Women's Earth Alliance, an organization working on three continents around issues of clean water, food, security, climate change, and land protection.
JOHN GERZEMA: brand strategist and author of "The Athena Doctrine: How Women (and Men Who Think Like Them) Will Rule the Future."
EVE ENSLER: a well-known feminist playwright, performer, writer, activist, and author of the The Vagina Monologues.
ABIGAIL WASHBURN: a singing, song-writing, Nashville-based, clawhammer banjo player who pairs venerable folk elements with far-flung sounds that feel both strangely familiar and unlike anything anybody's ever heard.
TEDxSandHillRdWomen is sponsored by the Knight Foundation, which works to create informed and engaged communities.
For more information on TEDxSandHillRdWomen, please visit the conference website at: http://tedxsandhillrdwomen.com/
TEDxWomen is an independently organized event, licensed by TED.
###
About TEDx, x = independently organized event
In the spirit of ideas worth spreading, TEDx is a program of local, self-organized events that bring people together to share a TED-like experience. At a TEDx event, TEDTalks video and live speakers combine to spark deep discussion and connection in a small group. These local, self-organized events are branded TEDx, where x = independently organized TED event. The TED Conference provides general guidance for the TEDx program, but individual TEDx events are self-organized. (Subject to certain rules and regulations.)
About TED
TED is a nonprofit organization devoted to Ideas Worth Spreading. Started as a four-day conference in California 26 years ago, TED has grown to support those world-changing ideas with multiple initiatives. At TED, the world's leading thinkers and doers are asked to give the talk of their lives in 18 minutes. Talks are then made available, free, at TED.com. TED speakers have included Bill Gates, Jane Goodall, Elizabeth Gilbert, Sir Richard Branson, Benoit Mandelbrot, Philippe Starck, Ngozi Okonjo-Iweala, Isabel Allende and former UK Prime Minister Gordon Brown. Two major TED events are held each year: The TED Conference takes place every spring in Long Beach, California (along with a parallel conference, TEDActive, in Palm Springs), and TEDGlobal is held each summer in Edinburgh, Scotland.
TED's media initiatives include TED.com, where new TEDTalks are posted daily; the new TED Conversations, enabling broad conversations among TED fans; and the Open Translation Project, which provides subtitles and interactive transcripts as well as the ability for any TEDTalk to be translated by volunteers worldwide.
TED has established the annual TED Prize, where exceptional individuals with a wish to change the world are given the opportunity to put their wishes into action; TEDx, which offers individuals or groups a way to host local, self-organized events around the world; and the TED Fellows program, helping world-changing innovators from around the globe to become part of the TED community and, with its help, amplify the impact of their remarkable projects and activities.
For information about TED's upcoming conferences, visit http://www.ted.com/registration
Follow TED on Twitter at http://twitter.com/TEDTalks, or on Facebook at http://www.facebook.com/TED