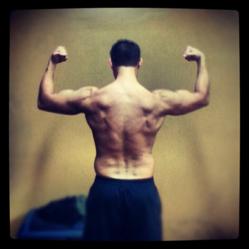 Monroe Wisconsin (PRWEB) November 30, 2012
Troy Tischler, Scott's younger brother, has always had knee problems. Since the age of seven Troy has had very severe knee problems. Troy has damaged his movement pockets in his knee; he has injured his ACL, and has had to go through extensive physical therapy.
Scott Tischler hated seeing Troy Tischler go through pain every day from just walking across the room. So Scott went on to design methods that would help Troy be in less pain and to hopefully lessen the chance of knee surgery later on.
1. Losing weight is the first step in alleviating pain from the knees. The less weight that the body has to carry on the daily basis the better it is for the knees. This step should be done cautiously as to not hurt the knees more.
2. Strengthen the legs. This step should also be done cautiously otherwise it could cause more injury to the knees. Some basic exercises that will help with strengthening of the legs are leg curls, leg extensions, wall sits, leg press, and squats. These basic exercises will help to strengthen the muscles of the legs which in turn will help keep the knee more stable.
3. Have a delicious chocolate milk treat after work. Chocolate milk is a healthy treat to have right after working out. It will provide the calories that the body so desperately needs after a good workout.
4. Slow and controlled is the way to grow. This is a good rule to follow especially when starting a new workout program. Slow controlled movements produce better results than improper quick movements. Going slow and doing the exercise correctly will also lower the chance of injury.
As with all exercise routines this one should be done with caution. The body has warning signs of injury and these signs should be heeded.