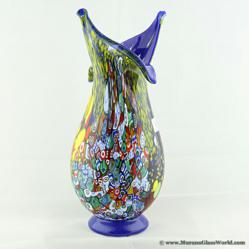 We are the market leader with hundreds of unique Murano Glass products available on our website, and the list continues to grow
Glen Rock, NJ (PRWEB) November 30, 2012
For over five years MuranoGlassWorld.com has been steadily expanding its online presence and making the name for itself with beautiful authentic Murano Glass products, well-designed web portal, and first-class customer service targeting wholesale clients. Today MuranoGlassWorld is the most significant importer and wholesale distributor of authentic Murano Glass in the U.S. and one of the best-known Murano Glass wholesalers worldwide.
"MuranoGlassWorld.com is a place for businesses looking to expand or complement their product offering with the best art glass in the world. Ideal for boutiques, gift shops, museum stores, vendors, event planners and interior designers worldwide, authentic Murano Glass dazzles discerning customers with its cascades of colors, exquisite forms, and gorgeous designs. Murano Glass is a unique product with history and artistic heritage going centuries back, still created entirely by hand with exceptional attention to detail, and almost synonymous with Venice -one of the most visited and famous cities in the world. Far from needing any advertisement, Murano Glass is actively sought out by the millions who visit Venice every year and value its unique characteristics in the world of increasing globalization and automation.
By closely watching the art glass industry on Murano and working directly with a hand-picked group of the most skilled and well-established artisans on the Island, we have been able to greatly expand the selection of Murano Glass products on our wholesale website. Now we are the market leader with hundreds of unique products available on our website, and the list continues to grow", proudly says Kevin Grinberg, the President and CEO of the Company. MuranoGlassWorld offers a full line of wholesale Murano jewelry, cufflinks, giftware, tableware, vases, sculptures, and classic Murano Glass chandeliers, to name just a few types of products.
The company has enjoyed quick growth and increased brand recognition over the recent years, but the Management still sees lots of opportunities for improvement. By continuously enhancing the website, providing exceptional client experience, and increasing its marketing reach, MuranoGlassWorld hopes to become the only destination for those businesses who seek to bring the highest quality handcrafted artistic products to their clients.