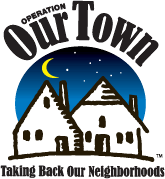 Altoona, Pennsylvania (PRWEB) November 30, 2012
Operation Our Town is proud to announce a newly redesigned website through collaboration with DiAndrea Media.
The redesigned website is better organized, more user friendly, and hosts new features such as a video tab, which contains a variety of resourceful videos provided by Operation Our Town, along with an archive of current and past episodes of Operation Our Town's TV Show, Taking Back Our Neighborhoods.
Another important feature of the website is the "Need Help?" tab, which is a resource for information on Signs of Drug Use, Drug Prevention, Drug Treatment, and Law Enforcement. The website also has a Neighborhood Watch tab, which provides information on the benefits of a Neighborhood Watch group, and what takes place during a typical Neighborhood Watch meeting.
The "Keep it Safe, Keep it Going" slogan can be seen throughout the website, and can also be found on the 2012 annual report, facebook page, Amtran bus, and billboards throughout Altoona.
Please take a moment to view the other features and learn more about Operation Our Town by visiting Operationourtown.org