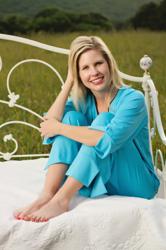 Originally designed for women with a new items for Men!
Highland Park, IL (PRWEB) November 30, 2012
Goodnighties Recovery Sleepwear is becoming the sleepwear of choice by baby boomers. Many within this large population segment have lived years in old routines with wildly busy demanding schedules and staying out too late. Those now in their 50's and 60's are looking squarely at retirement and lots of stress through tough economic times. Women and men are finding sleep issues are beginning to erode health. Goodnighties is the fix.
With that thought, new ways of finding comfort and better sleep have moved to the forefront and have become a recent priority. New high-performance fabric used in Goodnighties sleepwear is primed to attend to this most basic need. Sales of the small U.S. manufacturer are +65 percent from last year.
"The body clock changes," said Dr. Atul Malhotra, associate professor at Harvard Medical School and medical director for the sleep disorders program at Harvard-affiliated Brigham and Women's Hospital in Boston. "It's not just that people sleep poorly because they're older. As we get older, we're more at risk for conditions such as insomnia or sleep apnea."
Sleep problems plague our fast-paced culture and about 70 million Americans, according to the National Center on Sleep Disorders Research at the National Institutes of Health, suffer with sleep issues. The consequences can vary from feeling drowsy at work to dozing off while driving, something that causes an estimated 1,500 deaths and tens of thousands of injuries per year. The Centers for Disease Control and Prevention report that 48 percent of adults snore and nearly 38 percent unintentionally fell asleep during the day at least once in a month.
The loyal followers of Goodnighties sleepwear know even after the first night, that temperature issues are addressed through this unique patented fabric resulting in a more restful night's sleep. For that reason, Goodnighties has become a very popular gift for this holiday season. "Our repeat customer ratio is staggeringly high and they are now telling their friends and buying for holiday gifts." said Goodnighties owner, Marcia Bacon. "Since being featured a few months ago on the Dr. Oz Show, we have really helped a lot of people with sleep problems" she continued.
The soft, comfortable 4/way stretch fabric in Goodnighties has a superior moisture-wicking rating and it is proven to quickly wick-away moisture keeping one dry (and asleep) through the night. Another variable is the anti-microbial factor in this fabric. It is a 'dream' attribute for travelers. Women with symptoms of menopause also benefit from the ionized technology called IonX which is built into the fabric fibers.
Goodnighties is designed in vibrant jewel-toned colors and sold as separates to mix & match sizes, styles and colors. Originally designed for women and now selling a t-shirt and boxer short for men in black. The brand is made 100% in the America, sold primarily through their website and proudly ships worldwide. Wholesale pricing is available for retailers.
For more information http://www.goodnighties.com