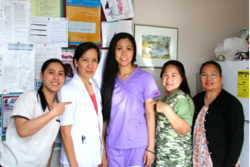 Their dedication to our mission of transforming the experience of aging to deliver life's potential deserves commendation. Our residents and greater community greatly appreciate their service.
Seattle, WA (PRWEB) November 30, 2012
Seattle's Bayview Retirement Community offers an impressive list of amenities and services that serve to maintain the independence of seniors, while providing the care and safety of assisted living. These services and amenities rely heavily upon the quality and devotion of a trained, professional staff. With this in mind, Bayview Manor is proud to congratulate their 'Years of Service' ceremony honorees by calling well deserved attention to their experienced and dedicated staff.
Bayview Manor's 'Years of Service" ceremony and potluck luncheon is a yearly event that celebrates the hard work and dedication that is so crucial to the retirement community's day-to-day operation. The ceremony recognized 28 staff members with at least 5 years of service. Nearly half of these honorees have contributed 10 years of service, including 4 with 25 years of service and one with 35 years. This continuity is a key factor in contributing to Bayview's 2012 5-Star Nursing Home Rating Report from the Center for Medicare and Medicaid Services.
With skilled nursing and rehabilitation experts, Bayview Manor's Health Center provides quality long or short term care. High staffing ratios allow their seasoned, professional care givers the opportunity to provide quality care in an enjoyable, homelike environment. From individualized nursing rehabilitation programs to personal nutrition services, Bayview is proud to have cultivated a supportive and nurturing community populated by a friendly staff and positive surroundings.
Moving forward, the Bayview Manor Retirement Community will continue to rely on their experienced and professional staff to provide the convenience and safety of assisted living combined with the freedom of living in one's own home. This gives seniors the confidence to remain independent as long as possible, while offering programs and services that promote a healthy and active lifestyle.