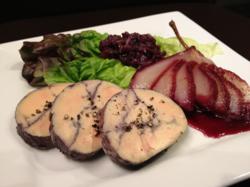 Laurel Pine, stated "We carry our most popular foie gras products in Reno, Nevada, allowing consumers to legally buy foie gras in the state of Nevada and transport the product back to California."
Reno, Nevada (PRWEB) November 30, 2012
According to Mirepoix USA, (enjoyfoiegras.com), a leading online purveyor of specialty gourmet foods and traditional French foods, consumers buy foie gras in greater quantities during the holiday season than the entire rest of the year combined.
This year, foie gras connoisseurs living in California will need to look beyond their local gourmet food store. California State Senate Bill No. 1520 (SB 1520), the "foie gras ban", which went into effect on July 1, 2012, prohibits the production and sale of the delicacy in the State of California.
Mirepoix USA, formerly located in the San Francisco bay area in California, relocated to Reno, Nevada last October in anticipation of the foie gras ban. Mirepoix USA is licensed in Nevada, pays taxes in Nevada, and all sales transact in Nevada. The company's founder, Laurel Pine, stated "We carry our most popular foie gras products in Reno, Nevada, allowing consumers to legally buy foie gras in the state of Nevada and transport the product back to California." Pine continued, "the law does not prohibit anyone from possessing foie gras in California, or preparing the product for their own enjoyment".
To meet holiday demand for the delicacy, Mirepoix USA is holding a six-course Foie Gras Tasting and Holiday Sales Event on Saturday, December 8, from 4 – 7 pm at ArrowCreek Golf and Country Club in Reno, Nevada. Californians and local foie gras connoisseurs can buy foie gras and gourmet gift baskets at the holiday event.
Six foie gras appetizer courses will be served at the holiday event including Hudson Valley Foie Gras Torchon with Cocoa Nibs and Coffee Glaze on Toasted Brioche, Red Wine Poached Foie Gras Torchon with Pear Shallot Jam, Foie Gras cured with Lavender Sea Salt, Wagyu Beef Sliders with Seared Foie Gras, Duck Bacon, and Spicy Tomato Jam and Foie Gras Ice Cream on Ginger Snaps with Aged Balsamic Vinegar. Premium wines that pair well with foie gras, including Trefethen Family Vineyard Late Harvest Riesling and Merlot, will be served and a no host bar will be open.
Mirepoix USA's six-course Foie Gras Tasting and Holiday Sales Event will be held at ArrowCreek Golf and Country Club, an elegant private club located in south Reno.
Tickets to the Foie Gras Tasting are available for purchase on the Mirepoix USA website at http://www.enjoyfoiegras.com. Admission is $75 per person. For additional information, contact Laurel Pine at 866-992-9559.
Mirepoix USA began marketing foie gras and other traditional French foods in 2004, and currently offers over 40 foie gras selections. In recent years the online retailer has expanded product offerings to include truffles, caviar, Wagyu and US Kobe beef, French cheeses, and a wide selection of gourmet gift baskets and gourmet food.