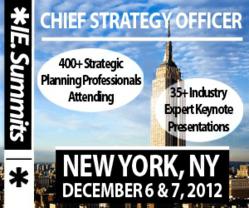 Over 35 industry expert keynote presentations
Highland, UT (PRWEB) November 30, 2012
As a media partner of IE, Strategy-Keys.com - the business strategy website - is excited to announce the Chief Strategy Officer Summit being held at the Conrad Hotel in New York on 6-7 December, 2012.
The summit will include:

OVER 35 industry expert keynote presentations
400+ Strategy authorities participating
Active workshops with industry leaders
Over 20 hours of networking opportunities included
Access to on-line presentations on-demand post-summit
OVER 20 case-studies presented from Fortune 500 businesses
Strategy executives and innovators will get together to learn how to create more effective strategic planning decisions and produce outstanding business results. The Chief Strategy Officer Conference is a gathering of top business strategy leaders for thought-leading presentations and workshops.
Confirmed speakers include:
Chief Strategy Officer, Lenovo
SVP, Strategy, Businesses Intelligence & Finance, Comcast
Worldwide Director, Enterprise Innovation, HP
Global Director, Innovation, GE
Chief Operating Officer, Societe Generale
Chief Innovation Officer, Dell
SVP, Corporate Strategy & Development, National Geographic
SVP, Strategy & Planning, BAE Systems
Vice President, Strategy & Corporate Development, Viacom
Associate Deputy Administrator, Strategy & Policy, NASA
VP, Corporate Development & Strategy, Experian
VP, Corporate Development & Strategy, Office Depot
Chief Strategy Officer, Urban Outfitters
Chief Strategy Officer, USAA
Senior Director, Strategy & Planning, BAE Systems
Chief Technology Strategist & Dir. Strategy, Architecture & Planning, US Dept. of State
SVP & Chief Strategy Officer, Washington Redskins
Senior Director, Strategy & Development, US Cellular
Chief Strategy Officer, Title Resource Group
MD, Digital Strategy, Harvard Business Review
Chief Executive Officer, Chartbeat
Head of Marketing, Prezi
Global Head of Strategy & Business Development, Bloomberg
Director, Strategy, Novelis
Chief Strategy Officer, SMC
VP, Planning & Process Improvement, Tribune
EVP, Mission, LIVESTRONG
Head of Digital Strategic Services, Capital One
Senior Manager, Partner Operations & Strategy, Google
Chief Strategy Officer, Johns Hopkins University
Chief Strategy Officer, Mckenna Long & Aldridge
SVP, Strategy & Product, Cross Country Home Services
VP, Strategy Management, Hagerty
Chief Strategy Officer, Alzheimer's Association
Division VP, Strategy, ADP
President, Strativity Group
President & CEO, Whitebirch Software
Chief Marketing & Knowledge Officer, Booz & Company
Senior Manager, Worldwide Sales, Strategy & Planning, Cisco
Strategy-Keys.com is a leading site providing breakthrough insights in business strategy and execution.